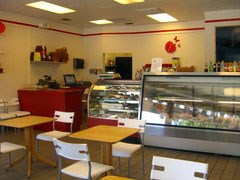 Norwalk, CT (PRWEB) December 19, 2013
With a commitment to help children that are less fortunate, Chocolate Rain Shop on Wilton Avenue is proud to support the efforts of their local Toys for Tots drive. Patrons of the chocolate shop are welcome to donate gifts that will go directly to local families in need this holiday season.
Chocolate Rain Shop staff has placed a Toys for Tots box conveniently at their 69 Wilton Ave. location in Norwalk. When local community shoppers are visiting the gourmet chocolate boutique for gift boxes or their amazing hot cocoa, they are encouraged to bring a new, wrapped or unwrapped gift and place it in the box. Gifts will be delivered to families in need during the holiday season, and provide the joy of hope for families that could not afford the gifts otherwise.
Toys for Tots is one of the country's most active and time honored charity drives, returning each holiday season to assist local communities on a micro level. In conjunction with the United States Marine Corps Reserve, the Toys for Tots mission is to deliver a new toy to less fortunate families, and along with it a hope for a brighter future.
Chocolate Rain Shop is proud of their local community and the great response that they see to this event each year. Residents of Norwalk are encouraged to think of those that are less fortunate this year and visit the Toys for Tots drive during their holiday shopping, and also enjoy a cup of their delicious hot chocolate!
<br>About the company:<br>Chocolate Rain Shop, located at 69 Wilton Ave, Norwalk, offers a wide variety of handmade chocolates, chocolate gift baskets, popular French Macrons, pastries and cupcakes at their cozy shop where patrons are welcome to sit and enjoy a cup of gourmet hot chocolate or coffee. Call today at (203)295-4621.