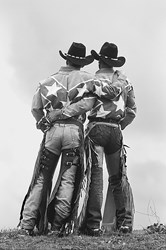 The whole scene watching it - imagining that these guys were really doing this, and that they were gay!
Indianapolis, Indiana (PRWEB) December 20, 2013
On Saturday, Feb. 1, 2014, Blake Little: Photographs from the Gay Rodeo will open at the Eiteljorg Museum of American Indians and Western Art. The opening marks the first time this exhibition, which tells the story of an often ignored part of American Western culture, has been displayed anywhere.
Blake Little will feature 41 black-and-white images of cowboys and cowgirls from the gay rodeo circuit, taken by award-winning, Los Angeles-based photographer, Blake Little. The Seattle native became captivated by the gay rodeo scene in 1988 and began documenting the lives of its contenders, victors and their devoted fans.
"The whole scene watching it - imagining that these guys were really doing this, and that they were gay!" Little said when asked what first sparked his interest in gay rodeos.
Blake Little became more than an observer. After getting hooked to going to rodeos, he wanted to become a part of the action. He learned to ride a steer, then a bull and slowly began to master the technique. In 1990 he was named Bull Riding Champion of the Year at the International Gay Rodeo Association.
"These photographs represent an amazing, magical time in my life. Back then, I questioned if I was a 'real' cowboy because In the back of my mind I always felt like an observer – and photography was my first passion. But my unique situation allowed me to document the growing sport of gay rodeo from the inside along with the thrills and personal challenges of fulfilling my cowboy dreams," said Little.
Curated by Eiteljorg assistant curator, Johanna Blume, Blake Little, serves as a stunning example of black-and-white portraiture and of rodeo photography. But that's not all, said Blume.
"This exhibit also explores the diverse and complex natures of individual and community identity in the West. Many of the people in these photos were LGBT men and women from rural backgrounds and the gay rodeo circuit gave them a place where they could embrace and celebrate their full identities."
Little has a storied career as a professional photographer. One of his first assignments, in the 1980s, was to shoot Tom Cruise for the cover of Moviegoer magazine. That project launched his career as a portrait photographer. He has worked with Jeff Bridges, Julianne Moore, Steve Carell, Samuel L. Jackson, Gwyneth Paltrow, Aaron Eckhart, Marcia Cross, Colin Powell, Kevin Spacey, k.d. lang, 50 Cent, Iggy Pop, Glenn Close, Jane Fonda, Jack Black, Adrien Brody, and Jane Lynch among many others. He has photographed for publications such as London Times Magazine, Entertainment Weekly, People, Time, Los Angeles Magazine and ESPN the Magazine. Little has also made a name for himself by examining concepts and definitions of masculinity through his portrait series Manifest and The Company of Men.
The Eiteljorg plans to travel Blake Little nationally after the exhibit closes on July 13, 2014. The timeline and venues for the traveling exhibit are to be determined.
Blake Little: Photographs from the Gay Rodeo and associated public programs, at the Eiteljorg are a part of the museum's Out West series. Out West programs illuminate the many contributions of lesbian, gay, bisexual and transgender (LGBT) communities of the American West, and celebrate the diversity of the region.
Attached photo credit:
Blake Little
Rodeo Partners Gene Hubert and Rick Ferreira, Sun Valley, California, 1991
Image courtesy of Blake Little.
Opening night preview party
Friday, Jan. 31
$20 per person for members
$30 per person for nonmembers
6:00 p.m. Complimentary wine and food pairing course
6:45 p.m. Performance by the Indianapolis Men's Chorus
7:15 p.m. Tour the exhibit with the artist
Opening day
Saturday, Feb. 1
Included with general admission
12:30 p.m. Indy Men's Chorus performs
1:30 p.m. Blake Little special program featuring Little, curators and gay rodeo participants
3:00 p.m. Informal gallery talks with visitors
Blake Little: Photographs from the Gay Rodeo is proudly sponsored by the Eiteljorg Museum with additional support provided by William L. Fortune, Jr. and Joe Blakely.
The Eiteljorg Museum seeks to inspire an appreciation and understanding of the art, history and cultures of the American West and the indigenous peoples of North America. The museum is located in Downtown Indianapolis' White River State Park, at 500 West Washington, Indianapolis, IN 46204. For general information about the museum and to learn more about exhibits and events, call 317.636.WEST (9378) or visit http://www.eiteljorg.org.
###