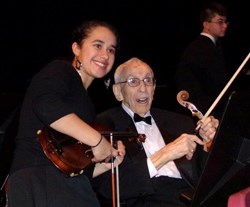 New Oxford, PA (PRWEB) December 19, 2013
"Before we play our next selection, I would like to acknowledge another guest that we have on stage with us today. Some of you may have seen the news on Friday night or Saturday morning. Mr. Ron Desenberg is with us today; he is 100 years young." With that introduction from Gettysburg Area High School Orchestra Director Krista Kriel, a dream came true: Ron Desenberg was performing again.
For most of his life, the musically gifted Cross Keys Village resident has played violin in bands and orchestras of all sizes, but recent problems with one leg have reduced his mobility. Still, the urge was there, and on Sunday, December 15, the years melted away when fingers touched bow and strings. A violinist since age 9, Desenberg had become a temporary member of a 115-member orchestra, the other members young enough to be his grandchildren or even great-grandchildren.
Original plans had Desenberg joining the orchestra for one composition, Leroy Anderson's "A Christmas Festival," but when his comfort level and ability became apparent, the offer was made to add other pieces, and even with only a couple of days to practice, he was up to the challenge. "When they played the Hallelujah Chorus," he said, "they took me up behind the curtain so I could play with the whole band and chorus."
Desenberg's achievement drew considerable attention, with stories in area newspapers and on television. Media in other parts of the country have picked up the story, and he was delighted that family members from Texas were able to see it. The concert capped a year when Desenberg set an admirable activity standard. Among other things he took a trip to Washington, D.C., and he went to a baseball game last summer. It all begs the question: What next?
"They invited me back for the spring concert," he said about one possibility, "but I think once is enough." An alternative is a goal he's had for some time: starting a new band. It will have a great violinist.