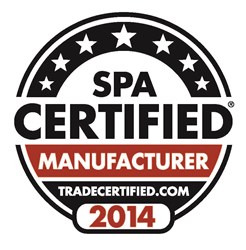 Vista, CA (PRWEB) December 19, 2013
Dimension One Spas (D1) is proud to receive the trusted SpaCertified™ status for 2014. D1 is the only company that has been recognized every year since Spasearch Certified and SpaRetailer Trade Certified programs began in 2001. This makes them one of the most reputable home spa companies in North America.
This award is the only independent endorsement for companies in the hot tub and pool industry. Winning manufacturers must get high marks from retailers and consumers on products, service and support.
Proving their longtime commitment to excellence, Dimension One Spas has met all the standards of the rigorous certification process. Completely independent and based solely on merit, companies in the hot tub and pool industry earn the SpaCertified™ status by demonstrating excellence on every level, from employee training to customer satisfaction.
To maintain complete impartiality, all results were calculated through a team of third-party auditors, ensuring that this certification was won fairly and not influenced by advertising dollars. This impartiality and the demanding nature of the award criteria make these accolades the first of their kind in the portable hot tub industry.
To learn more about the SpaCertified™ program, please visit http://tradecertified.com/welcome.php.
About Dimension One Spas
Dimension One Spas (D1), founded in 1977, is the industry leader in designing and manufacturing luxury home hydrotherapy and aquatic fitness products. The family-owned business has combined its innovations in materials, science and water handling technology to bring customers the most advanced spas in the world-- engineered to rejuvenate both body and mind. D1 has created a benchmark for quality and innovation with a focus on consumer's preferences, offering four distinct high performance collections. Please visit http://www.d1spas.com for more information.