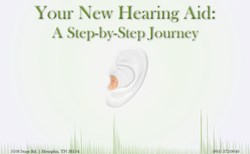 Memphis, TN (PRWEB) December 31, 2013
Professional Audiological Services announce the release of their new eBook, Your New Hearing Aid: A Step-by-Step Journey. This book helps readers struggling with hearing loss understand the process they should expect as they get fitted for and adjust to a hearing aid for the first time.
Understanding that hearing loss can cause a person to feel isolated and embarrassed, the book addresses highlights the pervasiveness of the condition. It discusses the causes of hearing loss as well as common signs and symptoms, and gives the reader a comprehensive understanding of what will happen at his hearing evaluation and initial fitting sessions. It goes on to offer a list of questions that new clients are likely to have for their audiologists or hearing instrument specialists.
This concise, highly focused book will help those experiencing a loss of hearing prepare both mentally and emotionally for their first visits to the audiologist.
The doctors at Professional Audiological Services have been serving clients throughout Tennessee and the Mid-South for over thirty years. PAS is the most advanced private hearing care clinic in the state.