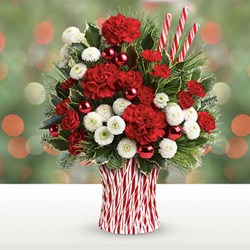 1stinFlowers.com doesn't penalize its customers with higher fees for waiting until the last minute to get orders in for holiday delivery.
Baton Rouge, LA (PRWEB) December 20, 2013
What other gift can be sent around the block or halfway around the world on short notice and with as little cost as a beautiful professionally-designed, hand-delivered holiday floral bouquet or plant? This is a great option for those consumers that wait until the last minute or dread getting out and contending with traffic and the crowds. Consumers get their money's worth with a gift from the 1stinFlowers.com online Holiday Selection Guide.
"Freight charges can be costly," exclaims Don Schultz, Sales Manager for 1st in Flowers! "Why pay as much for shipping as you pay for the gift?' he iterates. "Something else to consider is the possibility of inclement weather. Your gift may be sitting in a freight terminal somewhere until after Christmas," Don points out. "With our everyday low prices and one of the lowest service fees in the industry, why not spend your money on the gift and not the freight?" he recommends. "In many instances we can have your order delivered the same day," Don remarks.
The 1stinFlowers.com service fee for a professionally florist designed hand-delivered gift is presently just $9.95 all year round; which is considerably less than the fee charged by many of its competitors. It doesn't matter to the folks at 1st in Flowers! if an order is processed on December 1st or December 23rd the service fee remains the same. Many online floral vendors charge upwards of $15 to $25 for just the service fee alone to process an order.
"On a $60 order the service fee charged by our competitors can be as much as one quarter to one third of the order total," Don remarks. "Some of our competitors charge their customers a service fee plus an additional fee for same day delivery and some add an even higher fee for holiday delivery on December 23rd and 24th!" he is quick to point out. "Sometimes customers aren't even aware of these additional charges until they reach the online checkout. All these fees can add lots more cost to the gift, but not to the gift value," Don explains.
1stinFlowers.com doesn't penalize its customers with higher fees for waiting until the last minute to get orders in for holiday delivery. If a consumer really wants to save money and wants family and friends on the other side of the country, world, or even just the other side of town to get a gift, the 1stinFlowers.com solution gets it done efficiently and effectively. With no hidden fees or extra charges for express delivery and no mall crowds to fight, it's hard not to consider this option.
"If you've waited until the last minute, make sure you get your money's worth with a gift from 1st in Flowers! Don't get buried with a bunch of extra fees and shipping charges," Don pleads. He also points out that for those customers on the go, the 1stinFlowers.com website is tablet and mobile device friendly and he wants to remind everyone that there's still time to get an international order out for delivery before Christmas.
Benefits of Placing Your Order With 1st in Flowers!

Same day or Next Day Delivery Available
Delivery to over 150 Countries
Everyday Low Prices
One of the Lowest Service Fees in the Industry
100% Satisfaction Guarantee On All Products