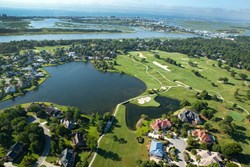 Exemplary Volunteerism and Generosity in a Community
Wilmington, North Carolina (PRWEB) December 19, 2013
Since 1996, The Landfall Foundation has raised more than $2.7 million dollars for local non-profits in Wilmington North Carolina. In November 2013, the foundation presented checks again to 71 local non-profits totalling $280,000, a continuous statement of generosity through fund raising efforts by the property owners.
Located just a few miles away from Wrightsville Beach and bordering the Intracoastal Waterway in Wilmington, this private gated golf community in Wilmington has been the talk of town since its development in 1995. Twenty-five years later, Landfall Country Club real estate is still regarded as some of the most elite property in the nation and is in a prime location.
Landfall Country Club is the home of more than 1,400 houses and is planning to expand to around 2,400 homes in the next few years. The Disney-style landscape is one of the main reasons that make relocating retirees and families anxious to purchase the limited Landfall Country Club real estate. Waterfront homes directly on the Intracoastal Waterway are coveted plots thanks to the relaxing panoramic views of the water and natural terrain. Golfers can easily be distracted by the stunning views during a golf outing on one of the two signature golf courses offered at Landfall Country Club.
Take a peek at Landfall Country Club homes.
Pete Dye Course and the Jack Nicklaus Course are the two Championship golf courses available to members of the Landfall Country Club. The North Carolina coastal gated community regularly meets at the golf clubhouses during the seasonal events and the dining establishments are perfect for personal or corporate get togethers. If golfing is not on the to-do list, residents can improve their swing at the 14 tennis courts available at the Cliff Drysdale Sports Center. Fitness enthusiasts can be in tip-top shape for the Wrightsville Beach when they train at their 1,600 square foot arena. The Sports Center is fully equipped with an aerobics room, full-size Olympic swimming pool and top-of-the-line fitness equipment.
After the the fitness routine, residents can check out the laid back social club activities with a group of friends or their families. Nearby shops and dining establishments can be found easily around Wilmington, North Carolina or at Wrightsville Beach that is located just 10 minutes away. The Kenan Chapel is a small denominational church inside the gates that organizes local events and weddings for residents or outside visitors. It is a warm place to meet new friends or attend fun community events. Children and teens can even join the parties that are available in this coastal North Carolina gated community.
Children and teens living on Landfall Country Club real estate are provided with some of the best schools around. Approximately 600 youths live in the Landfall Country Club and activities are available year round to keep them smiling. Summer camps, golf lessons, tennis clinics, dance programs and much more are provided at this upscale gated community in Wilmington, North Carolina.
Luxury is comfort at Landfall Country Club and the residents welcome new families and retirees every year.
About Real Estate Scorecard:
Real Estate Scorecard writes unbiased real estate reviews providing in-depth information about popular gated communities in Florida, Georgia, North Carolina, South Carolina and Tennessee, all in an effort to help people discover where to retire in the Southeast.
Website: http://realestatescorecard.com