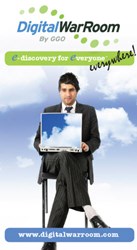 "The Digital WarRoom platform approach provides attorneys and litigation support professionals with very scalable ediscovery software application that supports multi-terabyte cases and smaller everyday cases equally well."
Seattle, WA (PRWEB) December 20, 2013
Digital WarRoom, the leading platform for accessible, affordable ediscovery, announced the release of Digital WarRoom version 8.5 this week. Version 8.5 provides law firms and corporate legal teams the ability to easily migrate an existing ediscovery database from Relativity, Summation and other ediscovery applications, to take advantage of integrated processing, document production management, and other features unique to Digital WarRoom.
"Law firms are increasingly looking for ediscovery solutions that provide them with greater control over the electronic discovery process and budget" said Barry O'Melia, product strategist for Digital WarRoom. "We pioneered the concept of a portable case database, originally to provide attorneys and litigation support professionals with a very scalable ediscovery software application that can support multi-terabyte cases on a server or hosting center, yet the same application can run on a PC for those everyday cases with a handful of custodians. With a platform approach, Digital WarRoom scales to meet the demands of each matter. Gone are the days of protracted periods of high cost hosting fees, because the client or law firm can choose when and where to host the data. The platform approach means there is no new learning curve for reviewers – the application is common across desktop, server and hosting center versions."
In version 8.5, the portable data model extends to include ease of migration from other industry review tools into Digital WarRoom. The most common reason for migration from other review tools to Digital WarRoom is to gain the advantages of integrated ESI processing and a wizard-driven production process in Digital WarRoom. By eliminating GB-based processing fees, the litigation support staff can get ediscovery done more efficiently and at far lower cost than traditional solutions offer.
New review features in version 8.5 include auto-search functionality for rapid filtering results, and a transparent redaction feature that allows review supervisors to quickly read, review and approve redactions; once approved the redaction obscures redacted text. Multi-language review is more efficient in v8.5, with the addition of integrated text translation based on Google Translate.
Upgrades are rolling out to client sites this week; readers may visit http://www.digitalwarroom.com for details. Law firms and corporate legal teams looking to move to Digital WarRoom are invited to register on the Digital WarRoom website for a software demonstration.
About Digital WarRoom Ediscovery Platform
Digital WarRoom is the first ediscovery platform to provide law firms, corporate legal and e-discovery teams with complete ESI processing, document review and production in a single application, eliminating traditional high-cost volume-based processing fees, and streamlining the ESI processing, filtering, and review into a single platform. The design of this all-in-one platform eliminates the risk inherent in moving data between disparate systems.
The Digital WarRoom platform is unique in its ability to create and save case data in a portable form. A case database created on any Digital WarRoom product can move seamlessly from Digital WarRoom Pro on a Windows desktop, to Digital WarRoom WorkGroup on a server behind the corporate firewall, or the DWR Remote full-service SaaS hosted environment, with all attorney work product preserved. This unmatched flexibility allows organizations to cost effectively handle early case assessments and complete ediscovery on routine matters in-house, while retaining the option for full-service hosted review on larger, complex and global matters. The features, menus and workflow are consistent, providing the ability to standardize the process of ediscovery for all matters regardless of size.
The Digital WarRoom platform has been acclaimed by e-discovery experts, law firms, and corporate clients as "impressive, seamless, and easy to use". An LTN product review compared the platform favorably with better-known but far more expensive solutions, saying "DWR seems to have adopted the best features offered by leading e-discovery software makers such as Clearwell and kCura Relativity and packaged them all together in one functional, integrated platform that can operate on a desktop, laptop, or computer in a distributed computing environment that incorporates other computers, such as a back-end database server." To learn more about Digital WarRoom visit http://www.digitalwarroom.com.