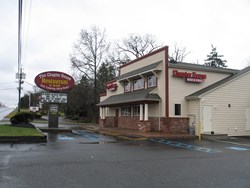 Howell, NJ (PRWEB) December 19, 2013
"We are closed" is not a phrase used often for the owners of the family run restaurants The Chapter House and The Ivy League, both located on Route 9 in Howell Township, New Jersey. Offering food and drink specials every night until 1:00 am, the Jaspan family is always welcoming customers in its doors. After closing for two and a half months for renovation, The Chapter House is firing up the grill again inviting guests to see its fresh new makeover.
The Ivy League was first purchased by the Jaspan's nearly six and a half years ago before the family purchased its sister restaurant, The Chapter House on Route 9 South, in 2012, ten days before Hurricane Sandy devastated the area. "The Ivy League, on Route 9 North is very convenient for a lot of people but both restaurants get a lot of locals and regulars coming in," said Tom Jaspan, owner. "We have customers that like the Ivy League more than The Chapter House and the other way around as well."
After remodeling The Ivy League three years ago, The Chapter House has recently been redone as well. Guests now enjoy new high-definition televisions, a state of the art audio visual system, new flooring, painted walls and ceilings. "To make money you have to put money back in," said Jaspan. Some customers have mixed feelings about the change of scenery. "People liked the old look because it felt more at home," continues Jaspan. "It's a matter of people getting used to it. Whatever you do people are going to complain about it. I've had a ton of people say that they like it."
The grand re-opening of The Chapter House featured a two hour free buffet, entertainment, and a ribbon cutting witnessed by the Chamber of Commerce and the Deputy Mayor. "All local businesses were invited," said Jaspan. "It turned out to be a good event."
Both eateries host special holiday celebrations including a Mother's Day Brunch and an Easter Brunch. "Every year it seems to get better and better," said Jaspan. During Saint Patrick's Day, The Chapter House and The Ivy League each go through 1,000 pounds of corn beef to accommodate the large crowds. They also have a New Year's Eve bash each year. "I don't believe in closing," said Jaspan. "We're family owned and we only close on Thanksgiving and Christmas Day because those are family days."
Other events they help sponsor are an annual benefit golf outing supporting diabetes, wings provider for the Lakewood Blue Claws games during Thirsty Thursdays at the stadium, and charitable events for the Howell schools. "I try to stay focused on what's going on in the area," said Jaspan. They also make contributions to the Brennan Association, honoring a customer's son who lost his leg in the war. During this fundraiser, The Chapter House donates beer and the Brennan Association gives a check in the amount of $25,000 to other veterans in need.
Featuring similar menu's The Ivy League and The Chapter House both open at 11:00 am Monday through Saturday and at 12:00 pm on Sundays. With two separate dining rooms for parties of up to fifty people in each, they cater events such as banquets, holiday parties, repasses, wedding showers and the like. Take-out is also available. Visit their websites for more information http://www.chapterhousenj.com/index.html and http://www.ivyleaguegrill.com/.
About Bielat Santore & Company
Bielat Santore & Company is an established commercial real estate firm. The company's expertise lies chiefly within the restaurant and hospitality industry, specializing in the sale of restaurants and other food and beverage real estate businesses. Since 1978, the principals of Bielat Santore & Company, Barry Bielat and Richard Santore, have sold more restaurants and similar type properties in New Jersey than any other real estate company. Furthermore, the firm has secured in excess of $500,000,000 in financing to facilitate these transactions. Visit the company's website, http://www.123bsc.com for the latest in new listings, property searches, available land, market data, financing trends, RSS feeds, press releases and more.