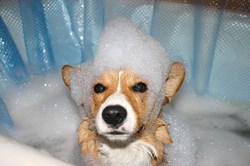 "We are dedicated to promoting responsible pet ownership with community outreach and education, as well as promoting spaying and neutering of pets."
Playa del Carmen, Mexico (PRWEB) December 20, 2013
Have fun with local dogs and help a great cause by participating in the Playa Animal Rescue Spa and Play Day. Occurring every Saturday at 9:30 AM (weather permitting), this event gives people the chance to interact with the dogs from the shelter and have some fun in the process. Volunteers can help pamper these friendly canines and play fun games with them during their time at the shelter while they wait for a new family to take them to a new forever home.
Playa Animal Rescue (PAR) provides transportation to and from the shelter. Anyone needing a ride can meet them in the parking lot of the Mega Store located on 30th Avenue and Constituyentes at 9:30 AM for this transportation option.
Playa Animal Rescue has helped more than 150 either get adopted into new forever homes or be placed in loving foster homes since December 2011.
Playa Animal Rescue, Inc. is a 501(c)3 registered non-profit, organization that assists in fundraising our no-kill animal shelter located in Playa del Carmen, Mexico.
"Playa Animal Rescue A.C. is dedicated to rescuing and rehabilitating injured and abandoned dogs, and to finding permanent, loving homes for each of them," the website states. "Although our primary focus is on dogs, we work with other local and international animal rescue organizations to get help for cats and kittens in need. We are also dedicated to promoting responsible pet ownership with community outreach and education, as well as promoting spaying and neutering of pets."
Residents of Playa Del Carmen, can consider participating in this or other events that the shelter hosts to support their worthy cause, or supporting them financially. For anyone looking for a new furry addition to the family, please consider adopting one of these loveable pets.