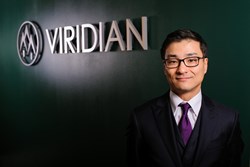 (PRWEB) January 01, 2014
Viridian Investment Management is proud to welcome Jameson Shin as newly appointed Senior Vice President and Portfolio Manager. In his role Jameson will continue to work with clients in preparing financial plans and investment portfolios.
Jameson has been a financial advisor since 1994 and is recognized as one of the top financial advisors in the greater Puget Sound area. Jameson previously worked at Dean Witter, Washington Mutual, RBC, and Wells Fargo.
Jameson will be based out of Viridian's flagship office in Northgate.
"I am delighted that Jameson joins our boutique family office at Viridian. He is a 20 year veteran in the industry with a wealth of knowledge and skills. I look forward to having such a talented advisor join our Viridian family." - Adriel Tam, CEO
Viridian Investment Management is an independent firm providing comprehensive financial planning and investment management services to closely held businesses, families, and individuals.
If you would like more information about Viridian Investment Management, visit their website. To schedule an interview with Jameson Shin or Adriel Tam please email jenn(dot)doucette(at)lpl(dot)com.
Securities & Financial Planning offered Through LPL Financial
A Registered Investment Advisor Member FINRA/SIPC