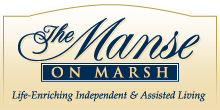 I can't wait for Santa to visit, eat a wonderful Christmas Eve meal, and then ring in the New Year with a Steak, Lobster, and champagne dinner.
San Luis Obispo, CA (PRWEB) December 21, 2013
Residents at the San Luis Obispo Assisted Living faciliyy The Manse on Marsh are enjoying all of the abundance of a rich, traditional holiday season throughout the month of December and into the New Year.
On December 10, a large number of residents gathered in the Atrium of the facility to take part in a special "We Care" event. Displaying a desire to reach out to the community at large during the holiday season of gift giving and caring, they made gift bags for the homeless women of the south San Luis Obispo County.
The following day, a local Girl Scout troop visited The Manse on Marsh and brought along some refreshments and supplies to participate in a craft project with the residents. According to staff members, the residents enjoyed mingling with the girls children and spending holiday time with them.
Local women's choir Kindred Spirits will perform a live concert for the residents on Monday, December 16 at 11 a.m. The choir members typically dress in festive Christmas attire and their visit and performance go a long way in getting everyone in the holiday mood.
Although they had an earlier Christmas party on December 7, the elderly housing residents are gearing up for another party on the 20th when Santa himself will make a special appearance. A large number of the residents' family members are expected to turn out to share their wish list with the jolly fellow as well as for the Christmas Eve prime rib dinner on the 24th.
The fun continues into the New Year as the residents welcome 2014 with an elegant New Year's Day dinner featuring steak and lobster and, of course, champagne.
Activities and special events such as those held during the holiday season are just a small sampling of what sets The Manse on the Marsh apart from other senior communities on the Central Coast. With an exceptional caring staff, enriching social activities, excellent cuisine, luxurious surroundings, and a welcoming, family-friendly environment, the overall well being of all residents is a daily priority.
The Manse on Marsh uses an industry-established and nationally recognized Assisted Living Care Planning System. Amenities include spacious, elegant flats and private homes, restaurant-quality open dining, convenient transportation, social activities and maid and laundry services. There is a full-time nurse on staff and attentive caregivers are available 24-hours a day offering discrete personal assistance.
For more information or to schedule a personal visit, call The Manse on Marsh, located at 475 Marsh Street in San Luis Obispo, CA at (805) 541-4222 or visit The Manse.