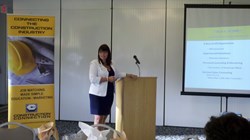 Construction Connection was built on the idea of helping individuals find the right job and companies find the right employees… That's where tools like the Everything DiSC Workplace Profile and Prove It! become extremely valuable.
Miami, FL (PRWEB) December 19, 2013
As 2014 budgets are set, many companies will begin new hiring in the coming weeks. Business consultant and Co-Founder of the construction hiring and networking website ConstructionConnection.com Suzanne Breistol aims to help business owners make smarter hiring decisions in the New Year. Construction Connection recently partnered with DiSC and Prove It! by Kenexa to offer site members two new valuable tools to help construction companies find the best candidates and to keep them on board. Breistol discusses these tools among other ways to improve recruiting, hiring, and retention of new staff in 2014 at SCORE Miami Dade business workshops.
The Miami Dade chapter of SCORE has been helping small businesses in Florida for over 50 years. When the recession hit and many businesses had to layoff employees or close their doors, SCORE worked to help individuals and businesses get back on their feet and recover from the toll the recession took. Now that the construction industry has largely recovered, many construction companies are looking to expand again. However, business owners want to be more cautious and thoughtful this time around to bring on new team members who will not only do their part, but work well within the context of their business. Breistol knows the importance of finding the right fit.
"Construction Connection was built on the idea of helping individuals find the right job and companies find the right employees; this is why we created our job-matching tool," Breistol explains. "We want to help individual highlight their skills, their training and experience, but we also want to help potential employers find candidates with work habits and personalities that will work well with their team. That's where tools like the Everything DiSC Workplace Profile and Prove It! become extremely valuable."
The Construction Connection patent-pending job-matching tool eliminates much of the guesswork other jobs sites leave up to the hiring company. Construction Connection does not user resumes, but rather detailed profiles and job listings that match credentials and experience to help businesses find the strongest applicants for available construction jobs. Now with the addition of two more tools, Construction Connection members are able to really fine-tune their options.
The Everything DiSC Workplace assessment is a tool that individuals and companies can use to better understand individuals' unique communication styles. DiSC helps people understand their strengths, which can help them discover what roles they are best suited for within an organization, and how well their personal communication style meshes with their colleagues. DiSC provides strategies for managers and business owners to help team members communicate better and work together to accomplish more. Breistol and her partner Kent Leighton are so passionate about the value of this tool that the Everything DiSC Workplace assessment and detailed reports are now available to Construction Connection members.
Additionally, Construction Connection now offers access to the Prove It! assessments by Kenexa. Prove It! is a system that tests individuals' proficiency with specific software, such as Microsoft Excel. An individual completes a test and receives a detailed report that includes an assessment of their performance as compared to other users who have taken the same test. Individuals can use these reports to demonstrate their skill level to potential employers, offering them a concrete metric of their abilities.
"Kent Leighton and I are very excited to provide our members with access to the DiSC and Prove It! tools on ConstructionConnection.com. We believe they are incredibly valuable and will help construction companies find the best people for the job," says Breistol. "We already use both resources when we work with businesses through our Consulting Simplified™ program, and we are very happy with the insight both have afforded our clients. I am now doing my part to spread the word to other construction company owners through the SCORE Miami Dade workshops, so more businesses can make smarter, better hiring decisions."
To learn more about Breistol's workshop or to register to attend, visit the SCORE Miami Dade website.
About Construction Connection
ConstructionConnection.com was created out of a need for a more effective and streamlined way for construction industry professionals to get matched with the right industry jobs and with the right industry opportunities. The partners of Construction Connection, both industry professionals themselves, listened to both company and individuals' dissatisfaction with the traditional job boards, the paid resume blasts, the overpriced resume services and overall lack of sympathy toward the individual candidate. They listened to the dissatisfaction from companies who post jobs only to get many irrelevant results or having to purchase high priced ads to showcase their company. Construction Connection is a patent-pending, one-of-a-kind profile creating / match-making system. The system delivers effective results. Construction Connection saves you time, money and aggravation by matching people to people, people to companies, companies to people, and company to company.