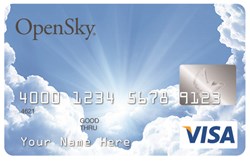 Rockville, MD (PRWEB) December 19, 2013
The OpenSky® Secured Visa® Credit Card now has the distinction of being highly rated by three banking and finance publications. Reviewers say OpenSky is a well-regarded product that can actually help consumers to build a solid credit history.
Retail Banker International granted Capital Bank an award for "Best Product Innovation" for the development of OpenSky, a product that fills a complex need in difficult economic times. "We knew that OpenSky would be a good product for our customers, but we're proud to be recognized by our peers in banking and finance," says Nick Bryan, President of OpenSky.
In addition, credit card experts from Creditnet.com ranked OpenSky number 2 on their list of the best secured credit cards. They say OpenSky allows potential cardholders to apply and receive approval quickly if they qualify. They also say cardholders can improve their credit with responsible use because OpenSky reports to the major credit bureaus. In addition, Creditnet.com found that OpenSky's annual fee of $29 per year was lower than the majority of secured credit cards. Secured credit cards allow cardholders to receive a credit line by providing a security deposit.
Meantime, GoBankingRates.com ranked OpenSky number 3 on its list of the best credit cards to help build credit fast. It says OpenSky's cardholders will improve their credit histories as long as they pay their bills on time, and it mentions that the initial credit limit is usually within the range of $200 to $3,000.
Unlike many of its competitors, OpenSky Visa does not require applicants to submit to a credit check or have a checking account. And, all monthly payment activity is reported to all three major credit bureaus; with on time payments, OpenSky customers are able to rapidly establish positive credit history.
Not only is the OpenSky secured credit card easy to get, it is also easy to use. With Visa as the issuer, the card is accepted anywhere the Visa logo is. To find out more about OpenSky, visit OpenSkycc.com.
About Capital Bank:
OpenSky is a business line of Capital Bank, N.A., a full service commercial bank in the Washington, DC metropolitan area. A top ranked bank based on performance, it is the only bank in Maryland and Washington, D.C. to make the American Bankers Association Journal (ABA Journal) list of top 100 performing community banks in the class of over $100 Million in Assets. With nearly $500 million in assets, Capital Bank offers a full range of banking services including cash management, commercial lending services, residential mortgage and consumer credit. For more information about the Bank, visit http://www.capitalbankmd.com. Member FDIC. An Equal Housing Lender.