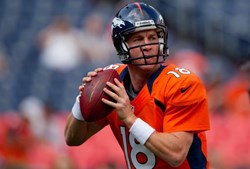 Denver, Colorado (PRWEB) December 19, 2013
The praise keeps pouring in for prolific NFL quarterback Peyton Manning. Earlier this week, he received the coveted Sports Illustrated Sportsman of the Year Award, honoring a lifetime of superlative sportsmanship both on and off the field.
But then, Peyton Manning's reputation has always preceded him, laced with a list of characterizations such as`boy scout', `choir boy' and `do-gooder'. Today, after 14 seasons with the Baltimore Colts (1998–2011) and two with the Denver Broncos (2012–present), he has a well-publicized passion for perfection.
He has a penchant for positive and continuous self-improvement and the work ethic to back it up every single day. He is poised, perceptive and phenomenally precise from the pocket. And, he is polite, patient and personable in public and at press conferences.
Two years after four serious neck surgeries, the 6 foot 5 inch, 230-pound passing phenomenon is back in play after missing the entire 2011 season. At age 37, not only does he hold most of the passing records in the NFL, he is currently at the helm of the best team in the AFC and the most productive offense in the NFL.
"Peyton Manning is in the midst of a season that could earn him his record fifth NFL MVP Award. Plus, he's quietly in range of setting new single-season passing records for yards and touchdowns," said Marta Ault at online ticket marketplace BuyAnySeat.com. "NFL ticket sales are up as the end of the regular season nears."
"That's why we're proud to offer fans the most comprehensive and continually refreshed selection of sports tickets online, with a worry-free guarantee to protect their purchase," said Ault.
"To access the complete selection of NFL tickets we now have available, fans can go to BuyAnySeat.com and click on NFL header, then select their team and their tickets."
Manning played for the University of Tennessee, leading the Volunteers to the 1997 SEC Championship in his senior year. He was chosen by the Indianapolis Colts with the first overall pick in the 1998 NFL Draft. From 1998 to 2010, he led the Colts to eight (seven AFC South and one AFC East) division championships, two AFC championships, and one Super Bowl championship (Super Bowl XLI).
He has won a record four league most valuable player awards, was the most valuable player of Super Bowl XLI, has been named to 12 Pro Bowls, has twelve 4,000-yard passing seasons, and is the Colts' all-time leader in passing yards (54,828) and TD passes (399). In 2009, he was named the best player in the NFL, and Fox Sports, along with Sports Illustrated, named him the NFL player of the decade for the 2000s.
Peyton Manning has already thrown 8,373 career passes and competed 5,475 of them for a 65.4 percentage with 483 touchdowns, 219 interceptions and 64,298 passing yards. He's second only to Brett Farve with 71,838 passing yards, followed by Dan Marino, John Elway and Drew Brees.
In May 2011, he underwent neck surgery to alleviate neck pain and arm weakness. Manning had never missed an NFL game in his career, but sat out the 2011 season. He was released by the Colts on March 7, 2012 and signed with the Denver Broncos just two weeks later.
The first Sportsman of the Year was awarded to English distance runner Roger Bannister, who broke the four-minute-mile barrier in 1954. Manning becomes the fourth NFL quarterback to earn the award and joins Tom Brady (2005), Brett Favre (2007) and Drew Brees (2010) with that distinction. He is just the eighth NFL player overall to be named Sportsman of the Year.
To shop for NFL tickets, visit: BuyAnySeat.com.
About BuyAnySeat.com:
An online ticket marketplace, BuyAnySeat.com connects sports, theater and other live entertainment fans to an extensive worldwide network of ticket sellers. The site's simplified listings and navigational tools enable fans to easily locate, compare and purchase inexpensive, discounted or lower-priced tickets to virtually all advertised sports and entertainment events around the globe.
The marketplace, which is PCI-compliant and Norton Secured, also provides customers with a complete Worry-Free Guarantee on all ticket purchases. Based in Denver, Colorado, BuyAnySeat.com is a subsidiary of Denver Media Holdings. For more information, please visit http://www.buyanyseat.com.