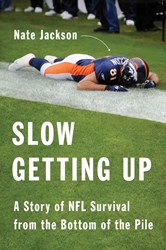 Discover your own path. It's the only way to create a unique product that stands out. Nate Jackson
Atherton, California (PRWEB) December 19, 2013
Nate Jackson '01 is a rarity in the football ranks. His six-year career in the NFL for the Denver Broncos was twice as long as the average NFL career. His penchant for breaking the mold led him to his current career as an author, having recently released his first book, a memoir entitled, Slow Getting Up: A Story of NFL Survival from the Bottom of the Pile. Jackson recently returned to Menlo College for a book signing, and had some advice for student writers and athletes.
"Most big-school journalism and writing programs adhere too strictly to academic standards of writing, and often stifle the young writer looking to establish his/her own voice. The budding writer is forced into a box, often never finding a way out," said Jackson. "My college newspaper gave me a column and cut me loose. I found my own voice and tinkered with my own style, which is an invaluable lesson to learn for a young writer. Forge ahead. Leave the writing world behind. Discover your own path. It's the only way to create a unique product that stands out. But it is nearly impossible at most universities due to their size. I'll be forever grateful to Menlo College, a small college, for allowing this creative freedom."
When asked why college was such a special place for him, Jackson said,"I came to Menlo because I had a dream of playing football. From high school I went to Cal Poly SLO, and walked onto the football team, but was cut. Bye bye, dream. But then I discovered Menlo; it felt so right. It was hard to explain, but we know that feeling when it happens, and it is a magical feeling. Once I got to Menlo, the moments continued to amaze me: with my friends, my teammates, my coaches, professors. It was such an overwhelmingly positive environment." He said, "I was allowed to try new things, to take chances, to make mistakes and to push ahead; all the while, there were supportive people encouraging me and clearing the path for my success. It was the perfect place for me, and it gave me the confidence I would need in the NFL and beyond."
Jackson was asked what advice he would give to current student-athletes in order to get the most out of everything that college has to offer. Jackson said, "My advice to students, whether they play a sport or not, is to push the envelope. Challenge yourself and challenge others around you. Enjoy your life. Don't be afraid to fail. You'll be surprised at how resilient you are, how well you can bounce back and what you'll gain from going through it. Believe in your own mind and your own ideas. Believe that what you're feeling is true, is real, and is worth something. And use college as the backdrop to do it. There's no better place."
by Aaron Gillespie, Menlo College Sports Information Director
About Menlo College
Menlo College, Silicon Valley's Business School, was established in 1927. It is a private, four-year, accredited, residential, non-profit college located in Atherton, California. Menlo College's mission is to develop future leaders through a liberal arts-based business education that integrates academic study and fieldwork in a Silicon Valley environment unmatched in its potential for innovation.