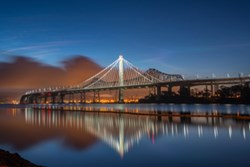 Oakland has always had a rich and diverse culture, great food and amazing music, and now the world is finally starting to take notice.
Oakland, CA (PRWEB) December 19, 2013
Oakland is making national headlines, garnering positive attention for attracting top restaurants and chefs, emerging technology companies and new residents. By the end of the year, Oakland will have received more than 20 positive accolades in 2013, including "Most Exciting City in America" by Movoto, "6th Best Rising Star Destination" by The Huffington Post, and "5th Hippest City in the U.S." by The Thrillist.
"Oakland has always had a rich and diverse culture, great food and amazing music, and now the world is finally starting to take notice," said Alison Best, president & CEO of Visit Oakland. "We have three professional sports teams, 19 miles of waterfront, over 100,000 acres of parks and trails, a booming restaurant scene—the offerings in Oakland are endless, and there are still so many opportunities to look forward to. The Oakland International Airport will welcome new direct international flights in 2014, as well as the Airport Connector. Oakland is hot and we're thrilled to see the city receive the attention it deserves."
In 2012, the world recognized Oakland's travel appeal when the destination was named the "#5 Place to Go in America" by The New York Times. Multiple outlets followed suit, listing Oakland as one of "America's Best Cities on the Rise," "America's 50 Best Cities," and "America's Coolest Cities."
According to The Huffington Post, Oakland deserves acclaim as a rising destination due to its "hip" factor, stating that "Brooklyn and Portland had better shuffle over and give Oakland some hipster room." Walkscore.com recognized Oakland as the 9th most walkable large city in the U.S., proclaiming "Oakland isn't the Bay Area's second city anymore. With its stunning location on the shores of Lake Merritt and proximity to Silicon Valley employers, it's come into its own." The California Travel Association awarded Oakland chef Tanya Holland "California Chef of the Year" in 2013, based on her success in creating not one, but two, dining establishments that exemplify the best in culinary arts.
Additional accolades for Oakland in 2013 included:

"11th Gayest City in America" — The Advocate
"Greenest City in the U.S." — SheKnows.com
"3rd Most Likeable City in the U.S." — Money Journal
"One of America's Top 12 ArtPlaces" — ArtPlace America
"3rd Highest Hotel Room Demand in the U.S." — Travel Weekly
"4th Most Diverse City in America" — NerdWallet
"4th Best Destination For Nature-Lovers" — NerdWallet
"2nd Best California City for Singles" — Movoto
"Top 10 Best Cities to Own a Dog" — NerdWallet
For up-to-date information on Oakland accolades, see visitoakland.org or follow Visit Oakland on Twitter and Facebook for updated press.
About Visit Oakland
Visit Oakland is a 501(c) (6) non-profit organization dedicated to marketing the City of Oakland as a travel destination. Visit Oakland offers a wide variety of complimentary services and materials for travelers, meeting planners, and businesses. For more information, see visitoakland.org.