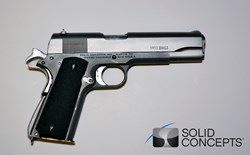 This is a chance to own a piece of history.
Austin, TX (PRWEB) December 19, 2013
Solid Concepts announced the successful completion of the world's first 3D Printed metal gun on November 7, 2013. The M1911 series 3D Printed metal gun reached over 1,000 rounds of firing without failure on November 21, 2013, and continues to fire successfully nearing 2,000 rounds. Now, the company has released plans to manufacture and sell 100 limited edition 1911 3D Printed metal guns.
These limited run 1911 3D Printed metal guns will be built and serialized with the option of unique customization using Solid Concepts Additive Metal Manufacturing technology. Each 3D Printed gun will be manufactured using Inconel 625 and Stainless Steel components. Post machining and hand polishing will complete the manufacturing process and each assembled pistol will undergo 100 rounds of test firing. Solid Concepts is offering buyers the chance to tour their Texas facility to see their gun being printed, and to join their lead additive manufacturing engineers on the range for the first test firing of their limited 1911 gun. "This is a chance to own a piece of history," says Vice President of Marketing Scott McGowan.
The serialized 1911 3D Printed metal guns will be priced at $11,900 while supplies last. The gun will arrive in a wooden showcase box with a 3D Printed metal plaque describing the unique qualities of the pistol and a certificate of authenticity. Sales begin Thursday, December 19. For inquiries relating to purchasing a limited 3D Printed 1911 gun, email Solid Concepts at FirearmProducts(at)SolidConcepts(dot)com.
1911 3D Printed Metal Gun Technical Specifications:
Weight: 2.25 lb empty, no magazine
Width: 1.3"
Trigger Pull: 5 lb
Sight Radius: 6.4"
Sights: Standard GI with square notch rear
Barrel – Number of grooves 6=Lands 6=Grooves
Barrel - Twist: 1: 15.8
To learn more about the world's first 3D Printed metal gun, visit: http://blog.solidconcepts.com/industry-highlights/worlds-first-3d-printed-metal-gun/.
Twitter: @SolidConcepts
Facebook: http://www.facebook.com/solidconcepts
About Solid Concepts
Solid Concepts Inc. provides custom manufacturing solutions via additive manufacturing, rapid prototyping, CNC machining, cast urethanes, injection molding and tooling. Since 1991, Solid Concepts has provided engineering expertise from multiple fields to bring success to new products in the aerospace, medical, consumer product industries and more. Capabilities in PolyJet, Stereolithography (SLA), Plastic and Metal Laser Sintering (SLS & DMLS), Fused Deposition Modeling (FDM), QuantumCast™ Cast Urethanes, CNC, Tooling and Injection Molding allow for low to high volume production of plastics, urethanes, and metals directly from design data, resulting in significant time and cost savings. ISO 9001 and AS9100 certifications. http://www.solidconcepts.com.