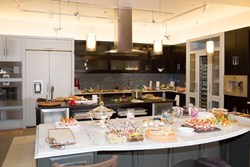 I passed on my husband's company party at ...GOOGLE to come to Signature Kitchens Additions & Baths!
Rockville, MD (PRWEB) December 19, 2013
Past, present & prospective customers came to enjoy the good food & libations. The crowd filled the kitchen & bath showroom which is no easy task at 4000 square feet. Alyssa Ploszay one of the bath & kitchen designers said at one point, "There are over 50 people here having a blast, great food & great holiday fun!"
Chef Maria Canora & Our Live Kitchen Cabinet Design Displays
The main attraction was Signature Kitchens Additions & Baths interactive and live kitchen design displays where Chef Maria L. Canora a Chef Instructor at La Cucina Tuscan Cooking held class. Chef Maria gave the crowd several cooking demonstrations and wine pairings throughout the evening. She started cooking on the Kitchen Aid Induction Cook Top a Reggiano Parmesano Stuffed Date wrapped in Bacon paired with a sparkling wine. It was delicious. This was followed with Fig and Gorgonzola stuffed Chicken Breast paired with a Pinot Noir. One of Joe Gelletich's customers from last year Brian Camp volunteered to help out. Brian said "Of course I'll help; I want to cook this dish in my new kitchen!" The Chef's demonstration ended with a batch of Christmas cookies and more wine.
According to Signature's owner Gary Case "by the time Chef Maria was done everyone was having a really good time! I think Chef Maria wanted to take home all or part of our Dura Supreme Cabinets display because she could not believe how fast the induction cook top arrived at the desired temperature in just a few minutes."
Turbo Chef Oven
While Chef Maria was cooking so was Lynn Case and Ellyn Gutridge in the Medallion Cabinetry display where the Turbo Chef oven was hard at work turning out one dish after another at lightning speed. It is hard to believe that the Turbo Chef can cook an 18 pound Turkey in just about one hour and have it turn out so juicy.
Satisfied Bath & Kitchen Design & Remodeling Customers
The other attraction was more intangible and was best expressed by one of Signature's past customers JD & Caroline Sailer"Our kitchen remodel has transformed our lives. We spend all our family time in the new space designed by Ellyn Gutridge and we are thinking of doing the bathrooms. In addition hanging out with the creative crowd at Signature is just plain fun!"
Some other comments from the crowd Dr Steve Kishter & his wife Dr Freddie Hoffman "It was a great turnout, we enjoyed hanging out with our good friends Rob & Rebecca Foss, Your crew can just do everything very well, it boggles the mind because it's kind of rare." Of course his oft repeated comment. "Your tools are just a bigger version of my tools." Steve is a reconstructive oral surgeon. Signature is doing an extensive design build DC whole house remodel for the Kishters on 16th St NW and had design a bathroom in Rockville for the Foss family. Kitchen designers Joe Gelletich designed the Kishter project and Alyssa Ploszay the Foss project.
Tom & Calli Schmidt "We are in the kitchen Joe designed and your incredibly capable crews remodeled for us every day. We are in the hot tub & deck they installed almost every day. It's weird to think of a company, especially in a good way, almost every day three years after you did business with them."
Kathy Whitt who had Hamid Fadakar one of Signature's bath & kitchen designers design a kitchen DC in contemporary kitchen cabinets said, "I passed on my husband's company party …at GOOGLE to hang out with you guys!" Wow!
Signature Kitchens Additions & Baths & Signature Elevators & Accessible Design are located at 850 E Gude Dr #C Rockville, MD 20850. They can be reached at 301-251-1880, http://www.signaturekab.com, http://www.signaturekab.net & http://www.signatureelevators.com.
The showroom is an interactive display of kitchen and bath ideas to help our designers & their customers turn the intangible into great design and ultimately into reality. For those interested in aging in place there are two elevators on display and a posh accessible bath. Signature has 5 designers on staff and 12 craftsmen. All work is done by in house employees.