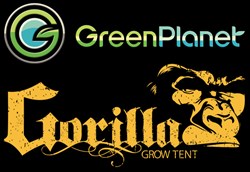 San Francisco, CA (PRWEB) December 19, 2013
Green Planet Wholesale Ltd. is a British Columbia-based company specializing in the wholesale distribution of quality impact products for the indoor gardening, hydroponic, and hobby greenhouse market. Eleven Green Planet locations within Canada that service 300+ Canadian hydroponic stores nationwide. Green Planet has warehouses on both the east and west coasts of Canada so they can ship to their retail locations rapidly. Green Planet has an extensive catalog and Gorilla Grow Tent will appear in the catalog in January 2014.
Known as the best grow tents on the market today, Gorilla Grow Tents are made for professionals but still perfect for beginners. Weighing in as the tallest, strongest, thickest and most user friendly grow tent, the Gorilla Grow Tent product line is the best-selling grow tent because of its superior features. The most striking feature of the Gorilla Grow Tent is the height adjustable tent structure. A user can easily extend their tent from 7ft. up to 8ft, 9ft even up to 10ft with the patent pending tent extension feature. The benefit to customers is to increase their grow space almost instantaneously. Another design feature is the easy to open doors for easy access to the growing area, multiple exhaust ports for running ventilation through the tent, and multiple cord port holes to run electrical cords to power sources. Gorilla Grow Tents fabric is rated at 1680D which is 3x as thick as any other grow tent on the market today. The extremely thick fabric that comprises the tent keeps noise, odors and light in and pests and diseases out.
Green Planet and Gorilla Grow Tent expect a very robust partnership and are looking forward to brisk sales in Q1 2014. For more information on Gorilla Grow Tents go to http://www.gorillagrowtent.com.