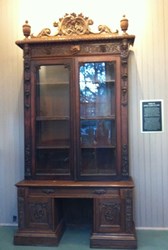 the desk served as Stuart's work space when he and Lincoln were partners in the Stuart & Lincoln law office from 1837 to 1841
Springfield, IL (PRWEB) December 19, 2013
It is said that the desk served as John Todd Stuart's work space when he and Lincoln were partners in the Stuart & Lincoln law office from 1837 to 1841. The second-floor office was conveniently located above the Sangamon County Courtroom in Hoffman's Row, a group of buildings on Fifth Street in Springfield, one block north of the public square where the Old State Capitol stands today.
Upon Stuart's death in 1885, the desk was moved to the home of his widow, Nancy Parks Stuart, 1119 South Fourth Street, Springfield. While the desk was there, a fire damaged it slightly, charring its back and left side.
In February 1965, Bill Loud, owner of the Petersburg antique shop Salem Country Store, purchased the desk from Robert Stuart, grandson of John Todd Stuart. J.D. Reidlinger purchased the desk in October of that year as a gift for his partner in an Arabian horse breeding operation, Walter Schimansk of Decatur.
Schimanski subsequently shipped the desk as repayment of a loan to another Arabian horse breeder, Jackson Hensley of Taos, NM. The desk returned to Illinois when Hensley married Alice Martin of New Berlin in June of 2012. The couple agreed that the Lincoln Depot was the perfect spot to share the John Todd Stuart desk with those interested in the Lincoln story.
The desk will be undergoing extensive restoration over the winter of 2013-2014, and is expected to be available for public viewing by the beginning of the 2014 tourist season in May.
The Lincoln Depot was recently restored, and its first floor is open as a tourist destination to those interested in train, transportation and Lincoln history. The site is open from 10 a.m. to 4 p.m. Monday through Friday. Visits may be arranged by appointment on weekends and holidays. The rest of the building is used by the Criminal Defense Lawyers and DUI Attorneys at Noll Law Office in Springfield, Illinois.