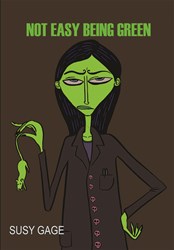 The hero of the story is a molecule: green fluorescent protein
Pasadena, CA (PRWEB) December 19, 2013
Finding a dead mouse in the lab is not usually such a big deal. But when the lab is a Biosafety Level-3 containment facility designed to keep things in and out, and when the mouse has a brain tumor that shines green under blue light, it's time to start worrying. When your graduate students start glowing, then it's time to panic. Especially when they could be spreading a mutant virus in ways you can only guess.
"Not Easy Being Green" is the second in Susy Gage's "lab-lit" series featuring intrepid physicist Lori Barrow, who by historical accident finds herself in charge of her university's biocontainment facility. When she suspects that a virus that makes cells fluoresce is escaping from the lab, her first thought is to blame the motley crew of bumbling theorists trying to learn biology. But investigation reveals something even more sinister: an unscrupulous researcher with an illegal clinic preying on everyone from the vain to the desperate.
"The hero of the book is not a person, but a molecule," says the author. In fact, the green fluorescent protein, or GFP, won its discoverers the Nobel Prize in 1998 for its myriad uses in biomedicine, from lighting up specific neurons in the brain to making entire glowing animals. But GFP is just a reporter, a sign that a cell's DNA has been modified. The real story is the practice of gene therapy, where new genes delivered to the human body might cure fatal diseases, reverse blindness, or stop aging. The book explores the grayest edge of medicine, where patients desperate for cures will try anything, and where the doctors treating them are more interested in money and fame than in saving lives.
The author is a physics professor whose first novel, "A Slow Cold Death" (Bitingduck Press 2012), explored the cut-throat arena of big-ticket physics. For this newest adventure, Gage interviewed "over a dozen" biology researchers and clinicians over a period of several years. The science behind both the books is detailed on the author's website.
"Not Easy Being Green" is currently available to professional readers and reviewers on NetGalley. It will also be featured at the BookExpo America in May; the publisher, Bitingduck Press, will have a full booth at the LA Times Festival of books in March. Bitingduck Press is an independent publisher that brings the quirky, ego-driven, and sometimes corrupt world of science to its readers. Publishing 6-8 titles per year, the press is currently accepting manuscripts for its 2015 Spring and Fall catalogs in a wide range of genres. The theme for Spring 2015 is "Hard Science Fiction," and will feature a time-travel romance (Bonnie Rozanski's "The Mindtraveler") and a young adult sci-fi adventure by Bill Bunn.