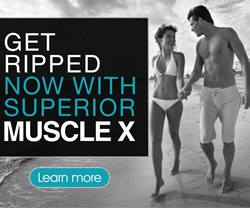 One of the best muscle builders on the market.
(PRWEB) December 20, 2013
Superior Muscle X is excited to announce its breakthrough in a new muscle building supplement, and, is now available for purchase nation wide. Starting this month, Superior Muscle X can be found online at https://www.superiormusclex.com . Superior Muscle X, utilizes a unique blend of L-Arginine.
"We have all known that L-Arginine has scientifically backed research behind it, but we wanted to give the consumers a perfect blend utilizing all it has to offer."
L-Arginine has been linked to many studies suggesting that in the body it changes into nitric oxide (NO). Nitric oxide is a powerful neurotransmitter that helps blood vessels relax and also improves circulation. It also helps with wound healing,helping the kidneys remove waste products from the body, maintaining immune and hormone function. Some studies even suggest L-Arginine has even been linked in to helping ED as well.
Superior Muscle X is also looking to expand into major retail chains and will soon be a top selling product online.We would like to give the customers plenty of options when purchasing the product.
For more information please visit our website: http://www.superiormusclex.com.