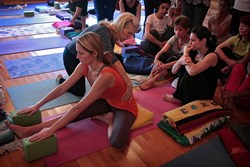 Learning must be experiential, personally meaningful, and most of all fun!
(PRWEB) December 20, 2013
The Lotus Pond – Center For Yoga and Health is pleased to announce the expansion of its Yoga Teacher Training programs. To meet an increasing demand, the new teacher training program will be completed in 30 days and take place on a 700-acre ranch teeming with wildlife and intersected by the (perhaps appropriately named) Peace River in Central Florida. Students will be housed in a rustic lodge. Their bodies and minds will be kept nourished, sharp and prepared for hard work by chefs trained at The Natural Gourmet Institute of New York City. Students completing the program will receive all necessary training for Yoga Alliance 200-hour yoga teacher certification.
Soon to mark their 10th anniversary, The Lotus Pond was initially opened by Val Spies as The Lotus Room near the hustle and bustle of downtown Tampa. In 2006 Val purchased a 4800sq. ft. log cabin on 4.5 acres in Tampa to create the campus like setting for The Lotus Pond. The Lotus Pond opened in 2007 and is now, also home to The Florida Academy of Ayurveda (A holistic form of medicine often referred to as Yoga's "sister" science).
Since its first graduating class of eight students in 2007, The Lotus Pond now graduates around 75 students annually and has a growing reputation among the most highly regarded training centers. The addition of the new 30-day teacher training program should see that number rise to 100 in 2014.
Aside from the beautiful setting, perhaps what separates The Lotus Pond Yoga Teacher Training apart from other available programs, are the skills Val developed before leaving the corporate world, as a creator of training curricula for Continental Airlines. "Learning must be experiential, personally meaningful, and most of all fun," says Val. A meticulously planned curriculum combined with the talents of top teachers from around the country has driven the success of The Lotus Pond's Yoga Teacher Training programs.
The goal of the new 30-day program is to reach geographically farther afield and make The Lotus Pond Yoga Teacher Training available to students outside of Central Florida. Registration is currently open, and training begins February 22, 2014.
In the face of a challenging economy, it is not surprising that more and more people are re-evaluating that which is important to them and trying simpler more holistic practices. Yoga in the United States has never been more popular. In 2011 U.S. News & World Report identified teaching yoga classes as the fastest growing second career choice in America. For more information contact TheLotusPondYogaStudio(at)gmail(dot)com or go to http://www.yogalotuspond.com.