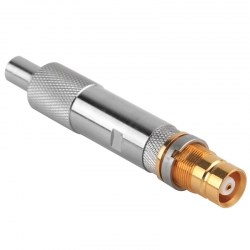 (PRWEB) December 19, 2013
Today, RFcnn.com, the famous supplier of mini baluns, has released its newest assortment of E2 Mini Baluns. What's more, the company has launched a special offer on these baluns. In other words, all the E2 Mini Baluns from RFcnn.com are now offered at discounted prices, up to 30% off. The promotion is will last until December 30, 2013.
According to the CEO of the company, the new E2 Mini Baluns are guaranteed to convert well between a balanced signal (two signals working against each other where ground is irrelevant) and an unbalanced signal (a single signal working against ground or pseudo-ground). They are very practical and can be applied in many major fields.
The CEO explains, "We are happy to unveil the fresh products and launch the promotion. This time, we want to expand our global market, especially the British market. We create the new range to meet the great demand on the market. At the moment, all consumers can seize the good opportunity to get what they need."
"For additional information, all of our products are promised to be excellent. The new E2 Mini Baluns offered by the company are popular at home and abroad for their practicability and affordability," he adds.
About RFcnn.com
RFcnn.com is an online shop of high end devices. It is a China based company that aims to provide customers with high quality products at the lowest possible prices. Customers can try the company's products through sample orders with a long-term contract. Most customers come back soon after receiving their first deals.
More details about the company's useful products can be found at http://www.rfcnn.com/Mini-Balun-1-6-5-6-L9-female-to-IDC-AWG24-26-RF-Connector-88.html.