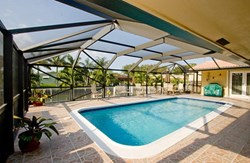 A swimming pool is an outdoor asset that becomes so much more usable, enjoyable and secure with a screen surround.
Miami, FL (PRWEB) December 19, 2013
In the Broward County city of Weston, screen enclosures, especially for swimming pools, took center stage for homeowners looking to fill roles in expanding their homes and lifestyle choices, said Chris Noe, president of Venetian Builders, Inc., Miami.
"Screen pool enclosures are a lifestyle choice for many homeowners looking to add not just living space, but also comfort and convenience," Noe said. "Pool domes accomplish all those things with style."
Venetian's Weston swimming pool enclosure volume in 2013 was more than three times the nearest other residential category there, screen patio covers, Noe said.
Venetian installs custom sunrooms, pool domes, patio roofs and outdoor rooms not only in Broward, but also in Miami-Dade and Palm Beach counties, and in the Keys in Monroe County. It also installs aluminum pergola for shade, retractable awnings for shade on demand, and aluminum lattice for privacy.
"A swimming pool is an outdoor asset that becomes so much more usable, enjoyable and secure with a screen surround," Noe said. "Pool screens stop bugs, animal pests and plant debris from lessening pool enjoyment. They also keep unwanted visitors – such as a wondering child – from entering the pool."
Pool enclosures can work in conjunction with patio screens or sun rooms for more complete outdoor activity centers, Noe said. Homeowners can add pergolas or awnings for protection from the sun, and lattice to keep out prying eyes, he said.
Venetian builds its pool screens to exceed the tough Florida Building Code, Noe said, even in high-wind areas, such as along canals, inlets, lakes, ponds, golf courses and parks. The company uses heavier-gauge aluminum framing that stands up better to storms and hurricanes but looks as elegant as the framing in lesser structures. It also uses properly sized gussets, corner bracing where necessary, stainless steel fasteners and heavy-duty anchors to enhance strength.
Venetian offers detailed, written, free estimates not only on pool enclosures, but also on aluminum sunroom additions, patio covers, pergolas, awnings and lattice. No-cost in-home consultations include curbside access by the homeowner to the Venetian mobile showroom. "Our showroom is never more than a few feet away," Noe said.
For more information call 866-596-2427.