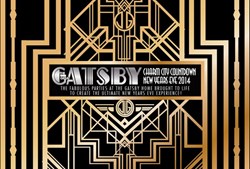 A showcase in opulance.
baltimore Maryland (PRWEB) December 19, 2013
The Great Gatsby is coming to Baltimore's Lord Baltimore Hotel! Come join the newly renovated hotel to celebrate the Charm City Countdown New Year's Eve Party. And, of course, come to step back in time to the extravagances of the Roaring Twenties, an age known for its excess, and unbelievable parties!
So, if you haven't lately twirled around a glittering ballroom whilst balancing a martini in hand, now is your time. Even more, a portion of the proceeds go to Caring Communities, a Maryland based non-profit.
The venerable Lord Baltimore Hotel is one of the great testaments to the 1920's. At the height of America's golden age, and situated just three blocks from the harbor, the hotel opened its doors in 1928. If by chance you walked through the gilded doors on opening day you would have heard an orchestra playing at the top of the marble stairs, followed by an address by John Calvert of Philadelphia, one of the eldest representatives of the Lords Baltimore family.
As we all know, Leonardo DiCaprio recently starred in the cinematic restoration of The Great Gatsby. It was a film replete with all the extravagances marking the Roaring Twenties, such as huge decadent ballrooms wherein socialites twirled under glimmering silver and colored glass.
Well, we are proud to say that with the recent multi-million dollar renovations at the Lord Baltimore Hotel—including a magnificent and historic 1928 grand ballroom featuring Baccarat crystal chandeliers and a mirrored replica Versailles Dining Room—it will feel like the 1920's have never left. And yet, the renovations have brought the Lord Baltimore Hotel into the twentieth century with state of the art technologies and hotel amenities.
Baltimore can thank Mera Rubell of Miami-based Rubell Hotels for restoring the Baltimore classic to its "original grandeur and prominence."
Don't just take our word for it—Come See for yourself and celebrate New Years Eve 2014.