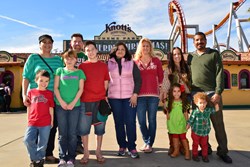 We're delighted by and grateful for the generosity of Alta Dena Dairies and Knott's Berry Farm, who have created a happier holiday season for Olive Crest children and families.
(PRWEB) December 19, 2013
The children and families served by the acclaimed nonprofit Olive Crest received a generous early holiday gift this year, thanks to a special campaign sponsored by Alta Dena Dairies and Knott's Berry Farm.
Between July and August, more than one million quarts of Alta Dena milk products shipped to retailers throughout Southern California featured special on-pack messaging highlighting Olive Crest's "Keeping Children Safe" program and launched a TEXT-2-GIVE campaign that encouraged consumers to donate $5 to Olive Crest by texting MILK to 80888.
The campaign, coordinated by marketing agency CausePlay, raised critical awareness of the nonprofit organization's prevention, education, and advocacy programs to combat child abuse and neglect. As part of the special promotion, Knott's Berry Farm donated four-packs of tickets that enabled Olive Crest families to enjoy a visit to Knott's Berry Farm over the holidays.
"We're delighted by and grateful for the generosity of Alta Dena Dairies and Knott's Berry Farm, who have created a happier holiday season for Olive Crest children and families," said Kerri Dunkelberger, Executive Director of Foster/Adoption. "Our Southern California partners have made a huge difference in the lives of the families served by Olive Crest, and we thank CausePlay for creating the linkages that made this program possible."
"At Alta Dena, we have always been committed to helping children grow and thrive, both through our products and through our community service," said Veronica Rendon, Director of Field Marketing, Alta Dena. "We wholeheartedly support the work that Olive Crest does to help children who have suffered abuse and neglect, and our hope was to help provide an escape for these children and their foster families by sponsoring trips to Knott's Berry Farm. Knott's has been a partner for years and we are grateful for their contribution to this campaign."
""Knott's was honored to welcome the children and families of Olive Crest during this holiday season, and we hope that their time spent in the park was filled with joy and delight," said Jason Soyster, Communications Manager at Knott's Berry Farm.
The Alta Dena–Knott's campaign for Olive Crest was created by CausePlay, a digital/mobile agency focused on causes and activating social change. In an effort to motivate further promotional engagement, consumers also had a chance to enter a sweepstakes to win an hTC One smartphone as part of the promotion.
To learn more about how you can support children families at Olive Crest please visit http://www.olivecrest.org.
###
About Olive Crest
Since 1973, Olive Crest has transformed the lives of over 60,000 abused, neglected, and at-risk children and their families. We work tirelessly to meet the individual needs of kids in crisis by providing safe homes, counseling, and education for both youth and parents. Our many innovative programs reflect our conviction that strengthening the family is one of the most powerful ways to help heal children. With unwavering compassion, the Olive Crest family maintains a lifelong commitment to the youth and families we serve even after they have graduated from our programs.
Olive Crest serves nearly 2,000 children and families each day throughout California, Nevada, and the Pacific Northwest. For information call 1-800-550-CHILD (2445) or visit http://www.olivecrest.org.
About Alta Dena
At Alta Dena, satisfying people who expect their dairy products to have superior taste, the highest standards of quality and absolute freshness is our number one focus. For over 65 years we have produced the highest quality products with a level of service that's superior to anyone else in the business. It's the Alta Dena Difference: Starts Pure, Stays Pure.
About Knott's Berry Farm and Cedar Fair Entertainment Company
Knott's Berry Farm is owned and operated by Cedar Fair Entertainment Company, a publicly traded partnership that is listed for trading on The New York Stock Exchange under the symbol "FUN." In addition to Knott's Berry Farm, Cedar Fair owns and operates ten other amusement parks, three water parks, one indoor water park, and five hotels. Cedar Fair also operates the Gilroy Gardens Family Theme Park in California under a management contract.
About CausePlay
CausePlay creates and licenses owned and operated mobile distribution and publishing platforms that deliver brand fueled content, promotions and advertising. CausePlay utilizes cause-based marketing and gamified tactics to integrate Non-Profit partners throughout the campaigns. For more information, visit http://www.cause-play.com