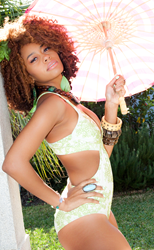 Fluid's online based process renders the measuring experience a private matter in which clients have total control – they may choose when, how, who assists and whether to share the results or not, and with whom.
Galveston, TX (PRWEB) January 02, 2014
Men are lucky. For years, they've had the luxury of having access to made to measure menswear, a type of customized garment that guarantees near perfect fit to its customers and is available through mass retailers. Yet somehow women's fashion has been reluctant to adopt this strategy, thus failing to address the well-known complaints that have plagued the industry for years, most specifically, that clothes simply do not fit well. Apparel manufacturers have slowly begun to introduce the concept of made to measure into some women's apparel, mostly dresses and suits, however one swimwear manufacturer is asking: why should made to measure garments be restricted to those meant for land based activities only? With the New Year quickly approaching and spring on the mind, Fluid Sunwear's 2014 New Year's Resolution is to not be held hostage to old standards. Fluid is rebelling against the status quo by offering women the opportunity to own bathing suits made to fit their body and making the swimsuit shopping experience, for once, pleasurable for her.
According to a study unveiled by local Portland Newschannel 8 KGW in 2012, swimsuit shopping anxiety affects women every year, making this task stressful and unpleasant. Women dread trying on swimsuits at the store more than wearing one in public. Worse yet, more than 70% of Americans would rather go to the dentist, do their taxes, sit in the middle aisle on an airplane or visit their in-laws than go swimsuit shopping says WomenYouShouldKnow.net.
With all this swimwear stress and hassle, isn't it time to come up with a better way to make swimsuit shopping a relaxing and happy experience; possibly even as enjoyable as purse or shoe shopping? Fluid Sunwear has done just that by creating a made to measure swimwear line. Each swimsuit Fluid sells is created only after a client chooses their favorite style, measures their body and places their order, thus providing women with a swimsuit that fits their body specifically. From torso length, bra size, leg opening and every other fit issue imaginable, Fluid M2M swimming suits fit every woman's body perfectly.
Fluid offers women a full suite of tutorials on the proper ways to measure a woman's body as well as webcam fit sessions and live chat sessions to help clients every step of the way. Most importantly, these resources are available in comfort and privacy of their own homes.
"In order to do a proper fitting, it is best to get down to your undergarments and then wrap the measuring tape. Many women feel uncomfortable by having a stranger in a boutique doing this, and when they do it over clothes, the measurements get all messed up," says custom dressmaker Pam Saavedra. "Furthermore, many women don't even want to know their measurements, and they sure as heck don't want their friend or some random shopgirl knowing either. We judge ourselves harshly, and we tend to think other people do so as well – so the whole process of getting measured creates unnecessary anxiety for a lot of women and they avoid it altogether, but it doesn't have to be that way."
Fluid's online based process renders the measuring experience a private matter in which clients have total control – they may choose when, how, who assists and whether to share the results or not, and with whom. Help is available as needed, but is not a requirement, thus reducing or eliminating the anxiety of having to get measured for a customized swimsuit.
"I love this system! And I am sure a lot of my clients will too. It's basically getting a customized piece in almost complete anonymity – your hip measurement stays between you and Fluid's website. It's like virtual bespoke," says Saavedra.
Fluid Sunwear's 2014 resolution is to bring the luxury of made to measure previously available only to men, to every woman who wishes to leave the ill-fitting status quo behind in 2013 and join the Fluid swimwear revolution by owning a suit made to fit her body, and by making swimwear shopping a pleasurable experience for women. What will your resolution be?
For more information please visit: http://www.fluidsunwear.com.
About Fluid Sunwear
Fluid Sunwear is a clothing line specializing in women's made-to-measure luxury swimwear and ready-to-wear designer sunwear. Fluid takes luxury swimwear to the next level offering women indulgent style, pure extravagance and timeless beauty, an experience not currently available through any other swimwear line. For more information, contact Fluid Sunwear via e-mail at info(at)fluidsunwear(dot)com, or telephone number: 409.974.7017.