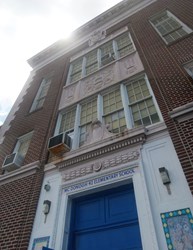 The McDonogh 42 renovation is an excellent example of what the New Markets Tax Credit program was created to do.
New Orleans, LA (PRWEB) December 20, 2013
HOPE (Hope Enterprise Corporation/Hope Credit Union) has provided $6 million in New Markets Tax Credit allocation to McDonogh 42 Elementary School for a complete renovation of the historic facility. Located in Treme, the renovated school will provide a high-quality facility for up to 500 PreK-8 grade students, support 50 permanent jobs, and create 200 construction jobs. The renovated school will contribute to the revitalization of the neighborhood, where currently 37.2% of families are living in poverty and 13.7% are unemployed.
Built in 1925, McDonogh 42 has continuously operated as an elementary school and was only briefly unoccupied after Hurricane Katrina. However, the facility has been deteriorating due to lack of investment. The NMTC funding will allow for the full renovation of the historic structure, transforming it into a 21st century school building. The renovations will help the school meet its goal to prepare students for college and to challenge and support each student to achieve his or her highest potential.
"The Recovery School District values HOPE's partnership as we work to transform the educational landscape for thousands of New Orleans school children," said Recovery School District Superintendent Patrick Dobard. "HOPE's investment in McDonogh 42 will ensure that hundreds of New Orleans public school students will attend school in a newly renovated, state-of-the-art facility where they can thrive in a rigorous academic program that will prepare them for their futures."
The New Markets Tax Credit program is run by the U.S. Treasury Department and brings private capital investments into economically distressed areas. The NMTC allocation from HOPE is being paired with an allocation from UrbanAmerica Principals III, LLC (UrbanAmerica), which has raised an equity investment from U.S. Bancorp Community Development Corporation in support of the $20 million rehabilitation of McDonogh 42.
"HOPE is excited to support educational opportunities that improve the lives and opportunities for our children," said HOPE CEO Bill Bynum. "By providing students with access to quality education and the neighborhoods surrounding McDonogh 42 with improved infrastructure, we create stronger communities that are equipped to be successful. The McDonogh 42 renovation is an excellent example of what the New Markets Tax Credit program was created to do."
The school is located in the historic Treme/7th Ward neighborhood of New Orleans and is part of a comprehensive neighborhood revitalization initiative that will leverage public and private investments totaling $3.7 billion in affordable housing, health care, the arts, green space, and infrastructure. These investments include HOPE's recent investment of $1 million in Broad Community Connections' Refresh Project which will expand the availability of fresh food in the neighborhood, the redevelopment of the Iberville Housing Development by New Orleans Housing Authority, and the renovation of several schools, including McDonogh 42.
"The new school is poised to become a catalyst for economic growth, enhancing efforts to revitalize the Iberville community. The CDE partnership will bring more than one kind of "hope" for the future of this low-income community. We are delighted to participate in this endeavor" Vetia Searcy, President, ILS Corporate Services, Consultant to UrbanAmerica.
Rural and inner-city regions of the country have suffered from a chronic shortage of capital for economic development because private capital tends to flow toward where money is already accumulating – in fast-growing metropolitan areas. A desire to bring economic prosperity to low-income communities resulted in the creation of the federal New Markets Tax Credit program, which was enacted by Congress as part of the Community Renewal Tax Relief Act of 2000.
"We're pleased to harness the power of New Markets Tax Credits to positively impact the future of thousands of New Orleans children," said Jennifer Westerbeck, Assistant Vice President at U.S. Bancorp Community Development Corporation. "HOPE and UrbanAmerica have been strong partners for many years, and we're proud to partner with them to support our shared mission of transforming lives in the communities we serve." The U.S. Bank subsidiary is capitalizing the NMTCs committed by HOPE and UrbanAmerica, which is generating below-market, flexible financing for the renovation of McDonogh 42.
Using three previous allocations totaling $50 million, HOPE has financed 108 projects for a total of more than $71 million, with 46 NMTC loans for $20.3 million in Louisiana.
###
HOPE (Hope Enterprise Corporation/Hope Credit Union) is a financial institution, community development intermediary and policy center that provides affordable financial services; leverages private, public and philanthropic resources; and engages in policy analysis in order to fulfill its mission of strengthening communities, building assets, and improving lives in economically distressed parts of the Mid South. Since 1994, HOPE has generated more than $1.7 billion in financing and related services for un/underbanked individuals, small businesses, affordable housing, homeownership, nonprofits, health care facilities, and other community development purposes, that has benefited more than 400,000 individuals in the Delta, Katrina-affected areas and other distressed communities throughout Arkansas, Louisiana, Mississippi and Tennessee. This impact has been substantially multiplied by HOPE's policy and intermediary efforts, which have informed and influenced public and private resources to assist disenfranchised people and places across the Mid South and nationwide.
UrbanAmerica (UrbanAmerica Principals III, LLC) a minority-controlled real estate investment advisor, launched in 1998, was one of the first investment advisors to focus on developing and acquiring properties in America's urban markets and low-to-moderate income (LMI) areas. As a pioneer in urban investing, UrbanAmerica addressed the lack of access to capital in LMI communities and in areas of diversity nationwide, where a dearth of goods and services existed and where unemployment was high. To date, UrbanAmerica has over $1 billion in equity under management across two private equity investment funds. In addition, through the NMTC program, as a Community Development Entity, UrbanAmerica continues to invest capital in these areas bringing schools, health care centers, retail, affordable housing, community services and jobs to LMI communities nationwide.
The Recovery School District is transforming low-performing schools in Louisiana. Established in 2003, the Recovery School District is a special school district run by the Louisiana Department of Education charged with an unprecedented challenge and opportunity to tackle and transform chronically underperforming schools. Driven by the goal to create equitable, innovative and sustainable schools, the RSD's turnaround model is designed to support autonomy, accountability and innovation. The RSD's mission is to pursue strategies to ensure that all students will graduate high school on-time and be college and career ready. http://www.rsd.la.gov
U.S. Bancorp Community Development Corporation
With more than $12.3 billion in managed assets as of Sept. 30, 2013, U.S. Bancorp Community Development Corporation, a subsidiary of U.S. Bank, provides innovative financing solutions for community development projects across the country using state and federally sponsored tax credit programs. USBCDC's commitments provide capital investment to areas that need it the most and have contributed to the creation of new jobs, the rehabilitation of historic buildings, the construction of needed affordable and market-rate homes, the development of renewable energy facilities, and the generation of commercial economic activity in underserved communities. Visit USBCDC on the web at usbank.com/cdc.
U.S. Bank
U.S. Bancorp (NYSE: USB), with $361 billion in assets as of Sept. 30, 2013, is the parent company of U.S. Bank, the 5th largest commercial bank in the United States. The company operates 3,088 banking offices in 25 states and 4,937 ATMs and provides a comprehensive line of banking, brokerage, insurance, investment, mortgage, trust and payment services products to consumers, businesses and institutions. Visit U.S. Bancorp on the web at usbank.com.