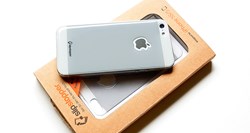 Count me in as one of the converted - it's quite the amazing product for keeping your iPhone 5S from sliding off of a surface, improving the grip of the device in your hand, and even for sticking it to windows or doors. - Steve Sande TUAW
Seattle, Washington (PRWEB) December 21, 2013
Cult of Mac's #1 rated Slip Stopper gel skin case is available for the Apple iPhone 5S. The latest comes with two-toned back, anti-shock screen protector, and anti-slip gel finish. Slip Stopper is one of the coolest iPhone 5S cases that offers anti-slip grip without bulkiness. Bitcoin payment is now accepted at http://slipstopper.com
An iPhone 5S skin cover that adds grip without the bulk
Slip Stopper minimizes the chances of dropping the iPhone 5S and eliminates the need for a bulky case. Created from a polyurethane resin, the material adds grip and prevents the iPhone from sliding, but is not sticky to the touch. The material is also dustproof, scratch resistant, and shock absorbent. Once applied, the iPhone 5S can sit on the dashboard of a car without sliding off during the drive. Slip Stopper adheres to the iPhone 5S using patented 3M technology, which leaves no residue on the iPhone and can be reused and reapplied. The latest release introduces two-tone back, which blends in with the design of the iPhone 5S, and is available in three colors: Slate, Silver, and Gold.
Available in five colors for the iPhone 5C
Slip Stopper is also available for the iPhone 5C in five different colors, including blue, green, pink, white, and yellow. The colors are designed specifically to match the color options of the iPhone 5C, and integrate into the design of the iPhone 5C.
Anti-shatter screen protector that prevents screen breakage
An exciting new addition bundled with Slip Stopper's iPhone 5S & 5C gel skin is the anti-shock screen protector. Designed to compliment the gel skin case, the anti-shatter screen protector provides military grade protection. It is able to withstand strikes from a hammer, and prevents the iPhone screen from shattering or scratching even when dropped on concrete.
Created by fusing five separate functional layers, Slip Stopper's screen protector dampens and disperses impact energy through its unique polymer structure. At the same time, it is crystal clear and ultra thin at only 0.02cm, so users can fully enjoy iPhone 5S & 5C's retina display.
Bitcoin payment accepted
Slip Stopper's website is now fully integrated to accept Bitcoin payments via BitPay. Bitcoin is the first decentralized digital currency that can be used in any country. Combined with Slip Stopper's free international shipping option, the product is more accessible than ever. Please refer to the video below for instructions on using Bitcoin:
Availability & Pricing
Purchase cool iPhone 5S cases at Slip Stopper's website for US$19.99.