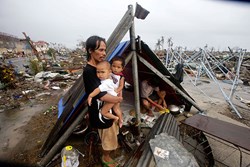 "We think this is a goal that the whole network can achieve, and we are appealing to all our IRs globally to please donate." - Donna Imson, QNET Executive Chairperson
(PRWEB) December 23, 2013
QNET, the Asian direct selling company and a main subsidiary of the QI Group, has joined hands with Habitat for Humanity to rebuild homes for families affected by Super Typhoon Haiyan in the Philippines.
QNET is helping by collecting donations from its Independent Representatives (IRs) and their respective teams and partnering with Habitat for Humanity to rebuild homes in the affected region.
Habitat for Humanity, an international, non-governmental, and non-profit organisation, will use donations from the QNET network to rebuild modest typhoon resistant homes. Each home costs about USD 4,700 and QNET aims to raise enough funds for 50 new homes.
"We think this is a goal that the whole network can achieve, and we are appealing to all our IRs globally to please donate. Let's come together, all corners of the Network, to give back their homes, their hopes and their dreams.
"QNET helps IRs on their path to one day build their dream home but right now families devastated by Typhoon Haiyan, the worst in recorded history, have no homes at all. We urge for urgent support from our IRs to donate generously as together, we can make a positive, lasting difference to the lives of the Filipino families," said Donna Imson, Executive Chairperson of QNET.
As recovery continues in the Philippines, the scale of the devastation left by Typhoon Haiyan is clear with half a million homes destroyed. More than ten million people are affected by the widespread devastation. Four million people are displaced, with no safe and secure home and 1.2 million homes damaged.
"We are proud to support Habitat for Humanity in its efforts to build homes, communities and hopes. This partnership reinforces our global vision to improve the quality of life in the communities in which QNET operates and provide an opportunity for our IRs to make a difference to the lives of the families affected by the disaster," she noted.
Ms Imson also added that it is but natural for QNET and Habitat for Humanity to forge a partnership, since both organisations complement QNET's mission to 'Raise Yourself To Help Mankind' or RYTHM, a cornerstone of the QI Group's citizenship approach to creating a sustainable society.
To donate, QNET IRs are advised to visit http://www.qnet.net/rebuilding_dreams