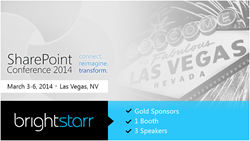 To be selected to present at the world's biggest SharePoint conference is a real honor. - Will Saville
(PRWEB) January 07, 2014
Amongst the mass of technology companies all looking to make their mark at SPC14, there is one SharePoint solution provider that really stands out from the crowd, and that is BrightStarr.
BrightStarr has had tremendous success since their founding in the United Kingdom in 2007 and now have numerous offices across key locations in the United States including New York, Houston and Seattle, where they are producing award winning intranets, customer facing websites, CRM portals and much more. Moving from strength to strength, the company is now recognized within the industry as a market leader for the consulting of Microsoft Collaboration products such as SharePoint. Microsoft has recognized BrightStarr's commitment to superior customer experience through their strong talent and deep technical knowledge by offering them three separate speaking slots at this worldwide event (more than any other independent Software integrator).
With three speaking engagements and Gold Sponsorship at SPC14, BrightStarr is now positioned as one of the most influential organizations at the entire event, only topped significantly by Microsoft themselves and this is a truly remarkable achievement. Will Saville commented "Microsoft has handpicked the organizations and the speakers for SPC14 from a wide spectrum of companies, and to be selected to present at the world's biggest SharePoint conference is a real honor for BrightStarr. From our inception in the market 7 years ago one of our core beliefs was based around employing outstanding team players or 'rockstarrs' as we call them. The fact that three of our people have been chosen to present their thoughts and ideas at such a well renowned event is simply amazing."
BrightStarr's speakers include Microsoft Certified Master Sam Hassani who will be holding two individual sessions, alongside his colleagues Eric Lytle and Kanwal Khipple who are hosting their own joint session and who are a Microsoft Certified Master and Microsoft Most Valuable Professional respectively. BrightStarr's significant involvement stems from the world class work they're doing with not only the SharePoint technology but also its cloud based counterpart Office 365, Yammer and Windows Azure. BrightStarr has years of technical prowess with Microsoft enterprise technologies providing the experience and expertise needed to deliver time and time again. With all this under the hood it is no wonder this rapidly growing global technology firm is set to steal the show at SPC14.
About BrightStarr
BrightStarr understand the digital workplace and build best of class solutions that increase employee productivity, elevate brands and create multi-channel revenue opportunities. BrightStarr's uniqueness is in their blend of both creative and technical skills, that when combined deliver truly extraordinary digital experiences, with the perfect balance of form and factor. BrightStarr is an award-winning four time Microsoft Gold Partner and are regularly singled out for incorporating cutting-edge design and technical excellence into all their customer engagements.
You can contact BrightStarr on +44 148 323 9240 in the UK and +1 888 777 6850 in the USA or visit their website http://www.brightstarr.com/