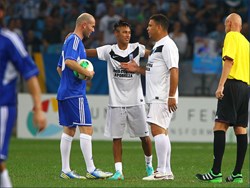 "This year we are concerned about the situation in the Philippines and we would like to help through the match to the global fundraising efforts for the country," said Ronaldo.
(PRWEB) December 19, 2013
Football legends and UNDP Goodwill Ambassadors Ronaldo and Zinédine Zidane announced today that the 11th Match Against Poverty will take place on 4 March 2014 at the STADE DE SUISSE National Stadium in Bern, Switzerland. Proceeds raised will help recovery efforts in the Philippines in the wake of Typhoon Haiyan, one of the most devastating storms in history.
Ronaldo and Zinédine Zidane will mobilize their team of internationally renowned football players for a friendly match against the Bern professional football club, the BSC Young Boys and Friends.
"Through the 11th edition in Bern we hope to be able to raise both awareness and funds for the people in need in the Philippines," said Zinédine Zidane. "Working together in support of the victims of Typhoon Haiyan we will all be winners in the Match Against Poverty."
Football legends Ronaldo and Zinédine Zidane have been the driving force behind the match since its inception in 2003.
"Last year we celebrated the 10th anniversary of the Match in Brazil and I am still very proud of its success. I am honoured that clubs such as BSC Young Boys have offered to host the event", said Ronaldo, who is now a key member of the FIFA World Cup 2014 Organizing Committee.
"This year we are concerned about the situation in the Philippines and we would like to help through the match to the global fundraising efforts for the country," added Ronaldo.
Two thirds of the match proceeds will be used to bolster recovery efforts in the Philippines, where more than 5,000 people lost their lives to Typhoon Haiyan, with almost 1 million people displaced and an estimated further 11.8 million affected. To bolster the local economy UNDP has already begun a cash-for-work project clearing debris in Tacloban, and will continue its efforts to help those who have lost homes, businesses and jobs as a result of the typhoon.
"Our goal is to dedicate the proceeds of this 11th Match Against Poverty to help survivors rebuild their lives and help the Philippines on a path to recovery," said UNDP Administrator Helen Clark. "As the Philippines works to recover from this terrible tragedy, UNDP is there in support and to help strengthen the nation's resilience to future shocks."
BSC Young Boys will donate the remaining third of the profits to the club's partner charity, the Laureus Foundation Switzerland. The Foundation provides financial and practical support to sports-related projects at the national level, and is part of the global Laureus Sport For Good Foundation, which supports over 140 projects in 34 countries around the world.
Hanspeter Kienberger, President of the Board of STADE DE SUISSE, said BSC Young Boys and Berne were very honoured to be host and part of this important event. "We will do our very best for a successful evening in Berne in favour of people who are in difficult situations", Kienberger added.
The match in Bern marks the return of the event to Switzerland, with the first edition held in Basel in 2003. Since then the match has been held in Madrid, Dusseldorf, Marseille, Malaga, Fes, Lisbon, Athens, Hamburg and Porto Alegre. Each match has supported specific projects in different countries facing difficult challenges.
Ronaldo and Zidane are part of a distinguished group of UNDP Goodwill Ambassadors, which includes other football stars Didier Drogba, Iker Casillas and Marta Vieira de Silva, as well as Crown Prince Haakon Magnus of Norway, Japanese actress Misako Konno, Russian tennis star Maria Sharapova and Spanish actor Antonio Banderas.
The match, which will be televised globally, is supported by both football's governing body, the Fédération Internationale de Football Association (FIFA), and the Union of European Football Associations (UEFA).
The 11th Annual Match Against Poverty in Bern will start at 20:00 local time on 4 March 2014. Ticket prices range from CHF 20.00 up to CHF 60.00 and will be available as of 19 December 2014 at http://www.stadedesuisse.ch/tickets or http://www.ticketcorner.ch.
***
For more information contact:
Aziyadé Poltier-Mutal; Mobile: + 41 79 349 16 10 -Tel: + 41 22 917 83 68
aziyade.poltier(at)undp(dot)org;
Stade de Suisse, Albert Staudenmann ; Mobile : +41 79 301 85 11 - Tel : +41 31 344 80 07, a.staudenmann(at)stadedesuisse(dot)ch
Online: undp.org/povertymatch | @undp | #PovertyMatch
YouTube: http://youtu.be/adeKnCVuqMw
UNDP partners with people at all levels of society to help build nations that can withstand crisis, and drive and sustain the kind of growth that improves the quality of life for everyone. On the ground in 177 countries and territories, we offer global perspective and local insight to help empower lives and build resilient nations.