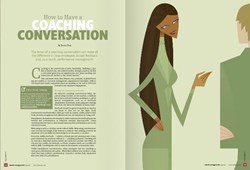 The ability to coach is perhaps THE key managerial and leadership skill today.
Merrimack, NH (PRWEB) December 21, 2013
Terence Traut, president of Entelechy, Inc. – creators of the world's most effective customizable leadership program – knows coaching. As a 30-year veteran of leadership and management training and as a manager himself, Terence has helped literally thousands of managers develop the critical skill of coaching. And he shares his insights in this month's issue of Talent Magazine (http://read.talentmgt.com/publication/?i=184306&p=30).
In addition to sharing tips to an effective coaching conversation, Terence draws on the comments of clients who verify the importance of coaching in today's workplace. They also speak from experience of the simplicity and effectiveness of Entelechy's coaching model – which is the heart of Entelechy's flagship leadership/management development program, Unleash Your Leadership Potential.
Terence Traut is president of Entelechy, Inc., creators of Unleash Your Leadership Potential, a customizable, client-owned leadership/management development program that is revolutionizing leadership development. For more detail about Entelechy's Unleash Your Leadership Potential program, visit Entelechy's website at http://www.unleashyourleadership.com.