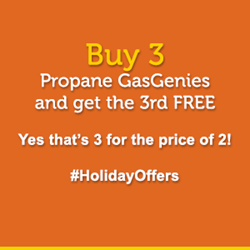 When I started to grill a few nights ago I suddenly heard this unusual tune. It turned out to be the Propane GasGenie playing its alarm tune and flashing its LEDs. It really works! -- Lee Shafer
NYC, NY (PRWEB) December 19, 2013
The Propane GasGenie is the only propane gauge that actively warns the user in time to finish cooking what is on the grill. It uses electronic sensors to detect a low gas condition and actively warns the user by playing a short tune and flashing LEDs in plenty of time before the gas runs out. It avoids the embarrassment of running out of gas in the middle of grilling.
The Propane GasGenie is small and neat and is simplicity itself to use. No installation is required, the unit just clips magnetically to the wall of the propane tank.
The original special holiday offer was 'Buy three and only pay for two.' As a result of the interest this has caused the Company has now extended the time scale that this is valid until Sunday, January 5th 2014.
Peter Frank, the inventor of the product, says, 'After we announced our special bargain offer we were surprised at the number of people taking us up on it. We believe this means that customers are recognizing that not only is it a great BBQ accessory but that it also makes an ideal gift.'
To take advantage of the offer, all a customer has to do is order three units from the Amazon site and they will only be charged for two. The discount happens when they go to the check out page.
Peter Frank, again, says, 'Until the Propane GasGenie was launched there was no reliable way to know when your propane was getting low. Pressure gauges just give a few minutes warning at best. So people have really taken to this new product. It solves a problem that every griller has experienced: Running out of gas in the middle of cooking.'
About Creative Electronic Products Inc
Creative Electronic Products Inc searches worldwide for products that are currently not available in the USA. After finding a possible contender it carries out due diligence by investigating the manufacturing Company. It then tests the product thoroughly before approaching the manufacturer to discuss an arrangement for the USA. For more information, visit http://www.cepinc.biz.