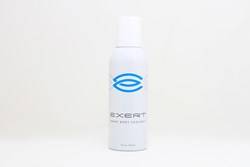 With Exert, one remains cool throughout the holidays and is able to warm up with loved ones.
(PRWEB) December 19, 2013
There are times when working up a sweat feels really good and there are other times when sweating is not just uncomfortable, but embarrassing and annoying. Standing in line shoulder to shoulder with the other two hundred people waiting in line to purchase those last minute gifts or when packed like a sardine at a company Christmas party are definitely times when sweating is uncomfortable. Exert Co. recently launched its Exert Smart Body Coolant that is proving to be a lifesaver for people who are looking to stay cool during those holiday hot flashes.
"Whether it's the result of environmental factors, stress, physical exertion, or even menopause, Exert provides invisible, scent free, hypoallergenic all-day protection," explained Christopher Joyce, CEO of Exert Co.
This product announcement is welcomed news to the estimated 8 million men and women in the U.S. who are diagnosed with hyperhidrosis, a medical condition that causes excessive sweating. This number however, pales in comparison to the estimated number of 32 million men and women who routinely struggle with excessive sweating but are not medically diagnosed. All of these people are searching for a way to stay cool.
Exert Smart Body Coolant gets sprayed once on the body and activates only when there is a skin temperature spike. Exert doesn't feel cold when applied but instead works by drawing heat away from the body only when the body needs it. When skin temperature rises, Exert activates and cools the skin by 2 to 6 degrees. When body temperature drops to normal, Exert recharges and is ready to cool again without the need to reapply.
The technology behind Exert's effect is supported by a 2010 study published in the Journal of Applied Physiology. Charkoudian explains that one's core temperature, and one's skin temperature are separate but connected. A warm core does not automatically create a warm skin temperature. The best way to maximize blood flow, improve aerobic exercise, and minimize sweating, is to have a warm core with a cool skin temperature. Exert facilitates exactly that by acting as a portable, cooling, micro-climate for the skin that allows the core to stay warm.
Exert Smart Body Coolant is the culmination of more than three years of development, research, and testing by Exert Co., which was founded by Mr. Joyce and Arvind Rao, Chief Innovation Officer.
Christmas is a time to bring family and friends together for the holidays. Unfortunately, as the remaining days dwindle away and December 25th gets closer and closer, the crowds get larger and the stress increases. These holiday hot flashes are enough to torment even the most joyous of Christmas celebrators. With Exert, one remains cool throughout the holidays and is able to warm up with loved ones.
A 4 to 6 week supply of Exert Smart Body Coolant retails for $30. To learn more about Exert Smart Body Coolant visit http://exertco.com or call (877) 929-9922.
About Exert Smart Body Coolant
Exert Smart Body Coolant is a once a day body spray that activates only when skin temperature spikes. Exert cools the body by up to 6 degrees. Whether it's menopause, hot flashes, stress, medication, anxiety environment, excessive sweating, or physical exertion, Exert Smart Body Coolant helps regulate skin temperature. To learn more visit http://exertco.com.
About Exert Co.
Exert Co. is a Wilmington, DE based company that makes smart, functional, consumer products that solve "big market" problems in completely new ways.