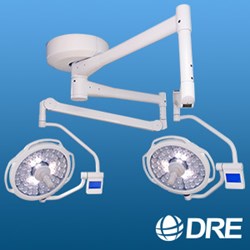 Louisville, KY (PRWEB) December 19, 2013
DRE Veterinary is expanding its line of surgical lights with new, energy-efficient models designed for durability and comfort with a low impact on environmental resources. The latest DRE SLS 9000 LED Surgery Light keeps up with industry trends toward LED lighting but has unique features that set it apart from similar lights at the same price point.
The SLS 9000 has all of the virtues of standard LED lights, keeping clinicians comfortable and cool throughout procedures.
But where this light really shines is the on-board LCD touch screen that controls the SLS 9000's illumination intensity and color temperature. This feature makes it possible for clinicians to easily adjust for any situation. The touch screen is standard for any of the DRE SLS 9000 configuration options.
For Nathan Claypool, director of DRE Veterinary Health and Animal Sciences, this feature is what sets the DRE Veterinary's SLS 9000 apart from other surgical lighting systems in a similar price range.
"Models of lights that are on par with the SLS 9000 often don't come with the extra touch screen controls," Claypool said. "It's a great feature for clinicians to utilize during their everyday procedures, and it's rare to see on a light that is this competitively priced."
The LED technology of DRE's SLS 9000 gives veterinary clinicians a shadowless light that outputs high-quality beams at a lower temperature than halogen lamps, between 3,500 and 5,000 degrees Kelvin.
Like most LED lights, the SLS 9000's bulb life is lengthy — 50,000 estimated hours while illuminated at 90,000 lux, to be exact.
Veterinary professionals can also customize the SLS 9000 with the different configurations DRE offers. The SLS 9000 can be purchased in a single or dual head ceiling mount, single wall mount or a mobile floor model.
DRE Veterinary's current selection of LED surgical lights also includes the DRE Vision LED Surgery Light, the DRE Maxx Luxx LED, and the DRE Vista Pro LED Procedure light. For DRE Veterinary's full list of both LED and halogen-based lighting systems, click here.
About DRE Veterinary
For over 25 years, DRE Veterinary has worked with many of North America's top veterinary facilities and organizations. They provide products and services that make sense, save their client's time and money, and allow veterinary surgeons to do the things they do best. DRE Veterinary is located in Louisville, Ky.