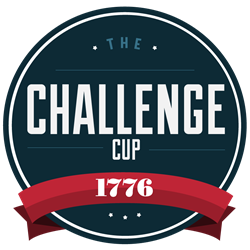 "We've seen some amazing companies compete to make it into the finals and the startups here in Boston did not disappoint. We have had a great time thus far and look forward to what 2014 holds," said Donna Harris, co-founder, 1776
Washington, DC (PRWEB) December 19, 2013
Today, 1776, an incubator platform located a few blocks from the White House, in partnership with the Cambridge Innovation Center, a co-working space and incubator for entrepreneurs, announced the winners of Challenge Cup for the Boston region.
Challenge Cup is a startup competition spanning 16 cities around the world and culminating in Washington, D.C. to find the world's most promising startups tackling education, healthcare, energy, and city challenges.
Sixteen startups, distilled from 42 regional applications, competed during the evening of December 18th event. The competitors also participated in an accelerator program for the two days preceding the competition.
"The first half of our Challenge Cup competition has taken us from Los Angeles to Moscow and we are excited to be ending the year on such a high note here in Boston," said Donna Harris, co-founder of 1776. "We've seen some amazing companies compete to make it into the finals and the startups here in Boston did not disappoint. We have had a great time thus far and look forward to what 2014 holds."
The regional winners include:

Education: BrightLoop – Built around a teacher's existing classroom workflow, BrightLoop is an app that allows teachers to keep all their student observations and notes organized in one place.
Energy: ecoVent Systems – An MIT-based startup that is focused on making the temperature inside homes more comfortable while maximizing efficiency, ecoVent makes wireless vents that open and close automatically to redirect airflow.
Healthcare: BETH: Benevolent Technologies for Health – Benevolent Technologies for Health is engaged in developing high impact, low cost healthcare solutions for underserved populations. The company's goal is to reduce prosthetic care costs by reducing the labor-intensive procedures that involve fitting, fabrication and adjustment.
Smart Cities: Silverside Detectors - Silverside Detectors develops radiation detectors that reduce the global threat of nuclear terrorism. Collaborating with experts in government laboratories, think tanks, and the private sector, Silverside adapts its technology to align with the security and detection priorities of agencies responsible for reducing the threat of nuclear terrorism.
The Boston regional competition was the final Challenge Cup competition for 2013. Challenge Cup will kick off 2014 in Austin, TX on January 17 with Denver, CO; Sao Paulo, Brazil; and Cape Town, South Africa following. Challenge Cup Global Partners include: U.S. Chamber of Commerce, District of Columbia, Pearson, TechCocktail, iStrategyLabs, Microsoft, and The Aspen Institute.
To be accepted, companies must be less than three years old, have less than $3M USD in revenue to date, have a scalable product or service already in the market, evidence some level of traction (active users, enterprise customers, or revenue), and have raised less than $1.5M USD in capital. Companies can apply on http://challengecup.1776dc.com/apply.
About 1776
1776 is a major initiative focused on helping entrepreneurs seeking to reinvent our lives as citizens. Located just blocks from the White House, 1776 convenes and accelerates startups from around the world by connecting them to the political, intellectual, social and financial capital that make Washington, D.C. unique. Visit http://www.1776dc.com or @1776dc on Twitter for more information.