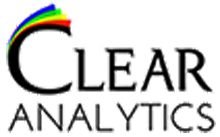 Jersey City, NJ (PRWEB) December 19, 2013
Clear Analytics announces a series of webinars focusing on best practices to increase the reliability of spreadsheets usage in the organization.
By using the free Clear Analytics Personal Edition, this series will demonstrate the many ways an organization can improve the way they use Excel for day-to-day analysis and decision making and avoid the pitfalls which can lead to errors and over proliferation of spreadsheets. Clear Analytics makes the spreadsheets accessible to IT and allows them to better provision updates to data. Furthermore, all calculations and logic performed within the spreadsheets are now available for examination by compliance and audit. Some of the topics to be covered in this Webinar are: removing the manual steps of pulling data from various sources, error checking, using the maker/checker technique for due diligence, using data share to safely store user-maintained data, and using custom groups for consistent mapping of data through reports.
This series of webinars is aimed at enabling a more accurate and robust reporting environment to all individuals who are experiencing trouble with proliferation of Excel documents and non-traceability of the data within their spreadsheets.
"In an environment where there is more demand on transparency and accountability, Excel on its own does fall short," said Dipak Bhudia, chief product architect. "However there are many technical and operational best practices which will bring a smile to even the most demanding of compliance officers."
About the Company
The team at Clear Analytics has over 20 years of experience in delivering cutting edge business intelligence solutions to enterprises that demand the freedom to self-serve and never wait on IT. The team's mission is to empower businesses with simple and elegant solutions that allow them to answer their own questions and collaborate insights without the need for IT. For more information about Clear Analytics, visit their website at http://www.clear-analyticsbi.com/.