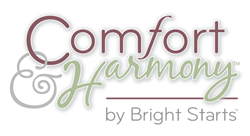 Atlanta, Georgia (PRWEB) December 19, 2013
Returning to work full-time and continuing to breastfeed is not easy, but it can be done. Kids II® and the team at Comfort & Harmony™, a leader in nurturing baby products recommend a mombo™ breast feeding pillow for new moms determined to provide their children with the nutrition recommended by health professionals.
Moms need to plan ahead before returning to work. The first step is to build up a supply of expressed breast milk while still on maternity leave. The milk can be kept for up to three months in a freezer.
Getting support at work is important. Expressing milk will require a working mom to excuse herself two to three times a day for between 20 to 30 minutes. On average, it takes close to an hour to set-up, pump, store, and clean a breastfeeding pump. The Affordable Care Act amended the Fair Labor Standards to require employers to provide reasonable break time and a place for mothers to express milk, said Postcresent.com (10.31.13).
Moms can use the mombo nursing pillow for added comfort while they pump. The unique pillow has a two-sided design called Firm2Soft. There is a firm side that provides good support and a soft side designed for baby lounging. Moms who are pumping can experiment with both sides.
About Comfort & Harmony™
The Comfort & Harmony brand is designed to exceed baby's comfort needs while appealing to mom's sense of style. Thoughtfully designed to create a supremely cozy environment for baby in sweet and heartwarming fashions that mom adores, the brand offers nursing pillows, swings, bouncers, shopping cart covers and rockers. Every Comfort & Harmony product incorporates nurturing features, such as ergonomic designs and plush fabrics that pamper mom and baby where it's needed most.
Headquartered in Atlanta, Georgia, Comfort & Harmony is one of the seven brands under Kids II, Inc., manufacturer, designer and marketer of toys and baby gear. Visit http://www.kidsii.com.
About Kids II®, Inc.
Kids II designs, markets and distributes more than 400 unique baby and infant products under its seven brands. The brand portfolio strength runs deep under the Kids II umbrella, which includes Bright Starts™, Ingenuity™, Comfort & Harmony™, Disney Baby™, Baby Einstein™, Oball™ and Taggies™ . Headquartered in Atlanta, Kids II has been become one of the world fastest growing baby product companies since its inception in 1962. For more information, visit http://www.kidsii.com.