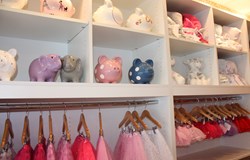 Mount Kisco, NY (PRWEB) December 19, 2013
With Christmas right around the corner, Kidville Mount Kisco has made last-minute gift shopping easy. Registration in one of Kidville's high-quality gym, music, art, dance or enrichment classes makes the perfect gift for children who want to have some indoor fun this winter.
Named "Best of" by New York Magazine and given a five star "extraordinary" customer rating in the lilaguide: New Parent Survival Guide, Kidville is dedicated to offering fun, developmentally appropriate classes where children can learn and play through exploration. Programs are offered for children newborn to 6 years old, including creative classes developed by a team of early childhood development specialists such as Ballet Tea Party™, Run Wiggle Paint & Giggle®, My Big Messy Art Class®, Big Muscles for Little Babies®, Kidville Gymnasts™ and Kidville Sports™. These programs are designed to help instill confidence in children and help them grow physical, socially, and cognitively in a safe, stimulating environment.
Kidville also offers a pre-school alternative program called Kidville University (KVU), which guides toddlers ages 2.0 through 3.3 years through social skills within a playful setting as they transition to school. Activities in this stimulating two-hour class include group welcome, circle songs and music, storytelling, large and small group activities, art and sensory play, as well as science and math exploration.
Registration is now open for Kidville's winter 2014 semester classes and KVU sessions that will begin the week of January 13th and continue for 16 class weeks through the week of April 28th. Kidville is currently offering an limited time early registration special, including a $50 discount off each class, complimentary Gold membership upgrade and access to Kidville's state-of-the-art facility – so be sure to sign up today for the best holiday savings.
While kids are in class this holiday season, parents can shop in Kidville's boutique, carrying toys and accessories including bath toys, dress-up play sets, stuffed animals and puzzles from brands such as Melissa & Doug®, Little Giraffe®, ALEX®, Crocodile Creek® and Green Toys™. Members of Kidville's loyalty program receive special benefits when shopping – 5% for Silver Membership, 10% for Gold Membership and 15% for Platinum and Diamond Membership.
Diana Mann, "Mayor" of Kidville Mount Kisco, recently shared some of her favorite holiday gift ideas from Kidville's boutique, including sparkly tutus and soft baby blankets. "The hand-painted piggy-banks are one of my favorite items. They can be personalized for an extra-special personal touch," Mann said.
For more information about class offerings, schedules and pricing for the winter 2014 semester, please visit http://www.kidville.com/mtkisco, call 914-458-1909, or "Like" Kidville Mt. Kisco on Facebook . Kidville is located at 145 Kisco Avenue, Mount Kisco, NY.
About Kidville:
Kidville operates large, upscale facilities, catering to young children and their families. In addition to offering a wide range of developmental classes for newborns through six year olds, including Rockin' Railroad™, Run Wiggle Paint & Giggle®, My Big Messy Art Class®, Big Muscles for Little Babies®, Ballet Tea Party™, Kidville Gymnasts™, Kidville Sports™, Camp Kidville™ and Kidville University™ (Kidville's Pre-School Alternative Program). Kidville also features an indoor playspace, birthday parties for children up to age nine, and at select locations, a retail Boutique and the Kidville Salon. Silver Membership is free with enrollment in any Kidville class, while upgrades to Gold, Platinum and Diamond levels are also available.