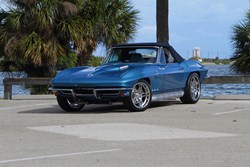 Merritt Island, FL (PRWEB) February 01, 2014
Ralph Eckler, the founder of Eckler Corvette Parts, one of the worlds leading suppliers of corvette parts and accessories, announced the release of his Ralph Eckler Signature Car Collection.
Having been inducted into the Bloomington Gold Great Hall in 2011, and now retired from Eckler Corvette Parts, Mr. Eckler has set his sights on his next vision and passion, which is restoring and resto modifying older, classic model corvettes.
Mr. Eckler said he saw an opening in the marketplace for building exceptional resto mod corvettes with the level of quality, that for many years, has been associated with the Eckler name. For the last 40 years, buyers of corvette parts and accessories have become familiar with the attention to detail and quality, which have been the Eckler trademark. Mr. Eckler is making this same level of commitment to his latest venture, and believes his message will excite those buyers and collectors of corvettes.
The first of the Eckler Signature Car Collection is a 1965 Chevrolet corvette stingray convertible. The car was stripped and the frame was replaced with a custom frame designed for a C-4 suspension and brakes. A brand new LS-6 engine was installed, along with a 6-speed Tremec transmission. This car represents the very first Ralph Eckler Signature Corvette of a Limited Series to be built. Documentation for this one-of-a-kind corvette includes a Certificate of Authenticity and I.D. plate certifying the car as Number 001 of the series.
"Unlike a restoration, we rebuild the entire car including installing a new engine, new interior, all new electrical components and wiring, with the transmission and suspension as well. A resto-mod, is a car that is meant to be driven, giving the owner the full experience of the classic corvette design, along with the performance, reliability and the comfort of a later model corvette," Eckler said. "America has not lost its love for the Corvette, the older they become the more desirable and valuable they are."
Eckler said, "The timing is quite favorable for such a launch. We are excited about this new venture. We will create happy, satisfied customers that will be served with exceptional quality and the ultimate corvette ownership experience."
For More Information:
Visit our website: ralphecklersignaturecars.com
Email: info(at)ralphecklersignaturecars(dot)com
Contact: Ron Mohr
Email: ronmohr(at)cfl(dot)rr(dot)com
ronmohr(at)cfl(dot)rr(dot)com
Images/PRWeb/wordThumbnail.jpg