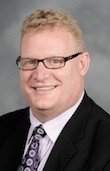 "While we're very honored to receive this prestigious award, we'd like to also acknowledge the valuable contributions of our customers and partners in helping us envision great technology solutions," said Bob Fischer, ADSI's founder and CEO.
Schaumburg, Illinois (PRWEB) December 19, 2013
Advanced Distribution Solutions, Inc. (ADSI) announced today that it has been chosen by CIO Review (http://www.cioreview.com) for the "Top 20 CIO Review Logistics Technology Solution Provider" Award, an annual listing of the 20 most promising technology companies offering logistics solutions. The selection is based on the evaluation of ADSI's Ship-IT™ solution, a configurable, single-platform, multi-carrier logistics software system for domestic and export shipping. This annual list of companies is selected by a panel of experts and members of CIO Review's editorial board to recognize and promote technology entrepreneurship. ADSI was chosen from a group of more than 300 companies being considered for the list by the CIO Review team.
"ADSI's logistics software solutions help our clients streamline shipping operations, achieve greater control over operating costs and enhance customer service. We help companies uncover additional value by managing these complexities," says Bob Fischer, Founder and CEO of ADSI.
"ADSI has been on our radar for stirring a revolution in the logistics sector and we are happy to showcase them this year due to their continued excellence in delivering top-notch technology-driven-solutions" said Harvi Sachar, Publisher & Founder, CIO Review. "ADSI's solutions continue to break new ground, benefiting its customers around the globe and we're excited to have them featured on our top companies list."
About ADSI
Advanced Distribution Solutions, Inc. (ADSI) is an industry-leading provider of flexible logistics management solutions for manufacturers, distributors, corporate campuses, online retailers, third party logistics providers (3PLs) and others. ADSI's solutions include Ship-IT™, a multi-carrier transportation management solution for domestic and export shipping, SaaS shipping software solutions, order pick/pack/ship; inventory tracking; delivery tracking; barcode scanning; mobile computing and more. Founded in 1997, ADSI's customers include 2000+ installed sites in the U.S., Canada and internationally. For more information contact ADSI at 847.884.1940 or via email at: info(at)adsionline(dot)com.
About CIO Review
CIO Review constantly endeavors to identify "The Best" in a variety of areas important to tech business. Through nominations and consultations with industry leaders, our editors choose the best in different domains. Top 20 CIO Review Logistics Technology Solution Provider is a listing of 20 Most Promising Logistics solutions companies in the U.S.