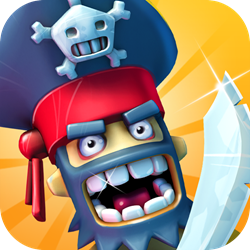 Plunder Pirates takes the combat strategy genre to a new level by adding amazing 3D graphics, sea exploration and combat against both enemies and friends
Leamington Spa, United Kingdom (PRWEB) December 20, 2013
United Kingdom – Midoki Ltd, a startup formed by ex-Sony developers and industry legend Ian Livingstone, announced their new title for iPhone and iPad: 'Plunder Pirates'. An epic online multiplayer strategy game in full 3D where players will be able to build beautifully detailed pirate islands, explore uncharted waters, fight rival players, and join friends in competing pirate guilds.
Ian Livingstone, games industry veteran and chairman of Midoki, said, "Plunder Pirates takes the combat strategy genre to a new level by adding amazing 3D graphics, sea exploration and combat against both enemies - and friends. The team at Midoki have rolled decades of console game tech development and expertise into a fun-filled, action-packed visual epic for mobile. It's been a pleasure working with them."
Key features:

Build - Create your own formidable pirate island in full 3D.
Explore - Sail the uncharted seas, discover new lands, monsters, and rival pirates.
Fight - Recruit and train a crew of awesome Pirates and fight rival player online.
Guilds – Join a guild and unlock specialist perks, quests, chat and much more.
3D graphics – Cutting edge visuals using Midoki's inhouse game engine.
About Midoki Ltd:
Midoki Ltd is a game development studio based in Leamington Spa, United Kingdom. Founded by a small team of veteran game developers in early 2012, they are focused is the creation of ground-breaking, socially-connected games that deliver rich entertaining experiences to the mobile space. The board members have a combined total of over 100 years experience in making games on almost every gaming platform since the Super Nintendo, and include BAFTA-winning, games industry legend Ian Livingstone.
Pricing and Availabilty:
Plunder Pirates will be a free download from Apple's App store, and will be available in Q1 2014, on iPhone and iPad.
Midoki's website
Plunder Pirates video
Press Kit available here