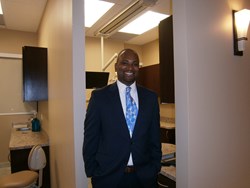 Miami, FL (PRWEB) December 20, 2013
On December 16, 2013, the Miami Bayside Foundation, a nonprofit organization designed to advance economic development in the City of Miami through the support of minority businesses and education, awarded a $50,000 loan to Midtown Dental. The business will provide general dental services such as diagnostic and treatment planning, dental cleaning, filings, root canals, extractions, minor oral surgery and more. President of Midtown Dental, Dr. John A. Nelson, has practiced dentistry in Miami-Dade County for four years. Dr. Nelson will use his past experience to provide quality dental services and a customer friendly atmosphere. Midtown Dental is located at 3915 Biscayne Boulevard, Suite 306, a rapidly growing area in Miami.
"The Miami Bayside Foundation loan came at a very helpful time to me as I just started my practice. The loan provided the resources to purchase equipment and hire employees to start my practice. I am very thankful for all Miami Bayside Foundation has done to help me develop my business plan and financials," said Dr. Nelson.
Midtown Dental will create eight full-time positions in the next two years. This supports one of Miami Bayside Foundation's goals of job creation in the City of Miami. The Miami Bayside Foundation, established in 1986, has created and administers a loan program for City of Miami minority businesses, funds scholarship endowments and gift programs for City of Miami minorities studying entrepreneurship and business, and provides technical assistance to community and development organizations in the City of Miami.
For more information on The Miami Bayside Foundation, please call (305) 379-7070, email info (at) miamibaysidefoundation (dot) org or visit http://www.miamibaysidefoundation.org.