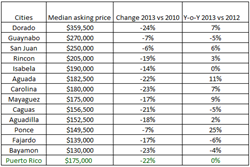 Saskatoon, Canada (PRWEB) December 20, 2013
Despite the economic hardships Puerto Rico is currently facing, real estate prices on the island have leveled out in the first 10 months of 2013, according to Point2 Homes data. Moreover, in several important cities, home prices registered increases of as much as 25%.
In 2013 and 2012, Puerto Rico's median home asking price was $175,000, a 22% drop from what homes cost in 2010. Home prices on the island are comparable to Pennsylvania's prices, (although median income is about three times greater in Pennsylvania, according to the US Census Bureau). For example, in 2010, Puerto Rico's real estate peak years, homes cost $224,000 while in Pennsylvania they cost $248,000.
The increases, on the other hand, were registered in many touristic locations such as Dorado, San Juan, Rincon, Aguada, and Ponce. They were more modest in Rincon – the median home asking price here is $205,000, a 3% increase over 2012 – but in cities such as Ponce, homes have seen their listing prices go up by 25% on average. San Juan real estate registered a growth of 6% year-over-year, with median asking prices reaching $250,000. Despite these increases, the real estate market is still a long way from how it looked in 2010.
The changes seen in Puerto Rico's real estate sector since 2010 may be linked to the stimulus plan adopted by the government that year. They offered several incentives to home buyers, sellers, and renters alike: no property taxes for the first 5 years, no capital-gains taxes when a home sale closes, and the possibility to get a government loan for those who qualify. As a result, the inventory of unsold homes, condos, and luxury villas dropped by more than 50% by 2012, according to The Wall Street Journal.
About Point2 Homes: Point2Homes is a consumer property search portal offering neighborhood-based search in the US, Canada, Puerto Rico, and other international locations. It operates under Point2, a leading provider of real estate marketing solutions and lead management software to brokers and agents around the world.
Contact:
Roxana Baiceanu
Point2 Homes Communications Specialist
Tel.: 718-408-4925