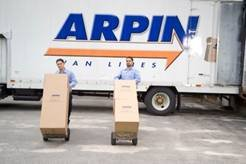 Moving can be a very emotional thing to have to do for many people. When you work with Star International as your mover of choice you get the pleasure of knowing that you will receive personalized attention and customer service.
Washington, DC (PRWEB) December 20, 2013
STAR International Movers released a new video describing its business and best industry practices recently. The video is meant to describe the business and industry best practices for Moving Companies Northern VA and Movers in Fairfax VA.
Award Winning Northern Virginia Moving Company, Star International Movers specializes in secure transportation and relocation. As full service Virginia Movers they provide local moves throughout the state of Virginia and the DC metro area, long distance moves to a new state, and international moves around the world. Of all the Fairfax moving companies only Star International excels in all areas of moving including local moving in Fairfax, Fairfax storage services, overseas moving and international moving, as well as interstate moving to and from Virginia.
For over 12 years, STAR has been delivering exceptional domestic and international moving services to individuals, corporations and government agencies. STAR International Movers was started in 1998 by moving professionals who saw the need for old-fashioned service in a rapidly growing, depersonalized industry. They pay special attention to the emotional aspects of moving, as well as strict attention to the logistics – from handling customs clearance and detailed documentation to protecting delicate family heirlooms.
Whether a move is around the corner or across the globe, clients need a moving partner who will streamline every step; reducing stress and insuring success. STAR International Movers simplifies the moving process for individuals and corporations worldwide. Their name tells the story – they are 100% dedicated to Secure Transportation and Relocation (STAR).
Call STAR International Movers now at phone number (703) 421-6510 or visit them at their website at http://www.starint.com.