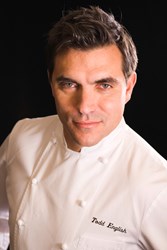 For many families to have to face the financial burden [of cancer] on top of the emotional turmoil is unimaginable. This is why I have been dedicated to helping raise money for the foundation in any way I can.
New York, New York (PRWEB) December 19, 2013
Chef Todd English will be raising funds for one of his favorite charities, The Family Reach Foundation, when he donates a special dinner at his signature Olives restaurant in New York City. The world-famous culinary star, author and TV personality has partenered up with online auction site, Charitybuzz.com to offer the experience to a lucky winner and 3 guests with proceeds directly benefitting The Family Reach Foundation which raises funds for families and children struggling with the devastating effects of cancer.
English will be donating a "Dine and Wine" dinner for four people prepared and hosted by him at his Park Avenue Olives restaurant. The winner and his guests will be treated to a four-course meal of English's renowned Mediterranean cuisine that will also be paired with selections from Olives' fine wine collection. Each guest will also receive a signed copy of English's best-selling cookbook: Cooking in Everyday English: The ABC's of Great Flavor at Home.
English joins fellow celebrity chefs Ming Tsai, David Burke, Joanne Chang, Tiffani Faison, Marc Forgione and Johnny Iuzzini as one of Family Reach's Chef Ambassadors. Since coming together in Spring 2012 for the popular "Cooking Live!" event series, their combined efforts have raised over $1 million to impact the lives of families fighting cancer.
"When my long time friend Chef Ming Tsai asked me to join his cause with the Family Reach Foundation, I did not hesitate for a second," says English. "My family has dealt with the devastation of cancer, and I cannot imagine what it must be like for parents to deal with something like this. For many families to have to face the financial burden on top of the emotional turmoil is unimaginable. This is why I have been dedicated to helping raise money for the foundation in any way I can."
Charitybuzz, the online auction site that donates luxury experiences to benefit various national charities and organizations, is currently offering the exclusive dinner with Todd English on their website. Foodies with a heart for philanthropy are able to log on and place a bid with proceeds going directly to the Family Reach Foundation.
The dinner is valid for 4 people. The four-course meal with wine pairing will be at Olives restaurant, 201 Park Avenue S., New York, NY, 10003. Approximate duration of dinner is 2 hours. The meal and wine is included. Expires 1 year from close of auction. Guests will each receive one copy of Cooking in Everyday English. To be scheduled at a mutually agreed upon date. Travel and accommodations are not included. For further information or to place a bid, please visit charitybuzz.com.
For further information about the Family Reach Foundation, please visit, http://www.familyreach.org.
About Todd English:
Todd English is a renowned chef, restaurateur, author, entrepreneur, and television personality based in Boston, Massachusetts and New York City. He is a four-time James Beard Award winner and inductee into the James Beard Foundation's "Who's Who in Food and Beverage in America." He is the CEO of Todd English Enterprises which owns, manages and licenses over 20 restaurants worldwide including Olives (New York, Las Vegas, Mexico City, Bahamas), Todd English Food Hall (New York, Manila 2014), Todd English P.U.B. (Las Vegas, Birmingham), Figs (Boston, Charlestown, Kuwait, Nantucket and Macy's West Palm Beach), BlueZoo (Orlando), Ça Va (New York), Todd English Restaurant (Queen Mary 2), Tuscany (Mohegan Casino) and Isabelle's CurlyCakes (Boston). He has two sons and one daughter. For more information on chef Todd English and his restaurants, please visit his website at http://www.toddenglish.com or follow him on Facebook – http://www.facebook.com/ChefToddEnglish and on Twitter- @ChefToddEnglish.