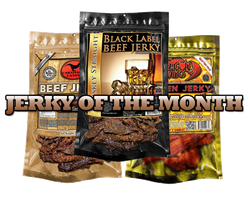 Orlando, Fl (PRWEB) January 07, 2014
The JerkySpot.com has taken their online retail jerky super center to all new levels by acquiring the rights to market and sell Jack Links™ brand of jerky snacks and products. In addition to offering some of the hottest selling jerky brands on the market including Black Label, Braaitime, Bulk Beef, Carnivore Candy, Dragon Wings and more, the addition of the Sasquatch-endorsed Jack Links™ product line boosts their arsenal of flavors deep into the stratosphere.
"We can't begin to communicate how thrilled we are to have the Big Guy- Jack Links® on our site," says JerkySpot.com Owner David Wolf. "If you've ever seen the multitude of national commercials featuring Sasquatch and his hilariously funny antics, you'll know what a thrill this really is for us", David continues. "It says a lot about the quality of our products and our service, and it puts our name alongside one of the top-rated jerky brands on the market."
In addition to the wide range of package and ordering options, the JerkySpot.com offers a unique membership club called the "Jerky of the Month". Subscribers will receive 3 full bags of jerky a month for 3 straight months to keep the tasty treats rolling in so you are never out of your favorite snack. Orders can be shipped worldwide, and there is even an option for full support of APO and FPO shipping so you can send a care package to your servicemen and women of the armed forces.
No slouch to marketing, David and his group are working hard on coming up with new packages that will feature Jack Links® products, and are looking forward the creativity they can utilize to sweeten their offerings to all customers, especially to members of their exclusive "Jerky of the Month" club. "We're not saying just yet what the next monthly membership might bring, but we can tell you it's going to be something that Sasquatch himself will be proud of," says David. "Look for a big announcement to our members coming early 2014."
About JerkySpot.com
The JerkySpot.com is an internet based online retailer of jerky brands, flavors, types and gift packs that is owned and operated out of Orlando, FL and services customers worldwide.
Jerkyspot offers the following brands: Black Label, Braaitime, Bulk Beef, Carnivore Candy, Dragon Wings, Jeffs Famous Jerky, Gary West, Golden Valley Natural, Buffalo Bills, Nick's Stick, Ostrim, Up North Jerky Outlet and Jack Links®.
Jerkyspot carries the following types of jerky: Bacon, Buffalo, Biltong, Chicken, Elk, Gluten Free, Hot Beef, Low Sodium, Turkey, Venison, and Organic.
More information about JerkySpot.com is available online at http://www.jerkyspot.com.
###
Financial capital for JerkySpot.com is provided by Prime Pinnacle, LLC, a private capital equity investment firm. Prime Pinnacle focuses on alternative capital investments. For more information visit http://www.primepinnacle.com.